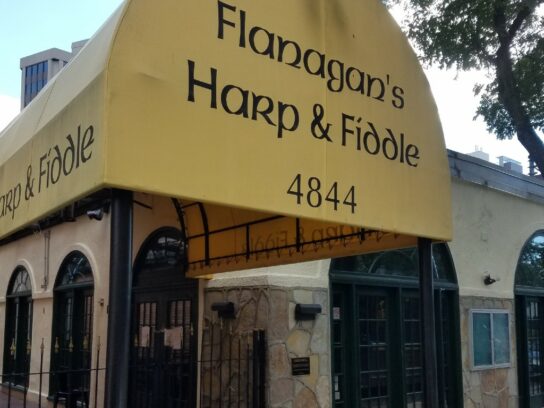 After 35 years of business, the longtime Bethesda fixture Flanagan's Harp & Fiddle officially closed its doors Wednesday.
Owners Stephen and Jenny Nugent told WJLA in a Sept. 2 segment that the restaurant closed due to challenges from the COVID-19 pandemic.
By the time Montgomery County Executive Marc Elrich eased phase 2 restrictions on live music in September, it was too late to save the restaurant, which hosted live music five nights a week before the pandemic. The restaurant could simply not pay the rent and was being sued by its landlord, Bethesda Beat reported.
https://www.instagram.com/p/CF2xJ5YBYyg/
The Irish pub not only served food and alcoholic beverages, but it also served as a hub for local musicians and music-lovers. The pub gave many local artists their start on their musical careers. According to its website, Harp & Fiddle was the oldest pub in Bethesda.
With its dark wood bar, wall of posters, and a stage that once hosted the likes of Joan Jett and Gregg Allman, the joint has a history, regular performer Thomas Keith told Bethesda Beat.
The pub posted a statement on Facebook about its permanent closure on Wednesday, thanking family, friends, and customers that supported them over the past 35 years. They also thanked their "incredible staff and all the talented musicians and performers that have appeared" on their stage.
"You made our pub a place to come to for fun and a sense of community. We couldn't have done it without you and we will miss you all more than we can say," the pub wrote in the post.