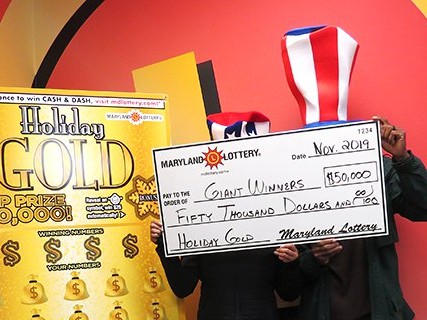 A Gaithersburg woman and her husband claimed a $50,000 scratch-off prize at Maryland Lottery headquarters recently.
The Gaithersburg grandmother of eight, mother of four adult children said her "palm was itching all week." So she decided to purchase two Holiday Gold $5 scratch-off tickets at her neighborhood grocery store. As luck would have it, she won $50,000.
Her husband, always checks her lottery tickets.
He said, "She always gives me the scratch-offs to look at because one time she thought it was a $5 prize and it was $50." He soon realized she won $50,000.
The couple told Lottery officials they plan to pay bills with their prize and the wife, who is a retired mental health professional, may take a trip to visit a distant relative.
This is their first big win but not their last, the pair said. "We'll be back!" vowed the wife.
The husband and wife's names were not released. That, coupled with the picture of them standing behind the big check wearing Uncle Sam hats presumably indicates that the couple wishes to keep their identities confidential. Maryland is one of seven states that allows lottery winners to remain anonymous.
The Giant located at 842 Muddy Branch Road in Gaithersburg earns a $500 bonus from the Lottery for selling the winning ticket.