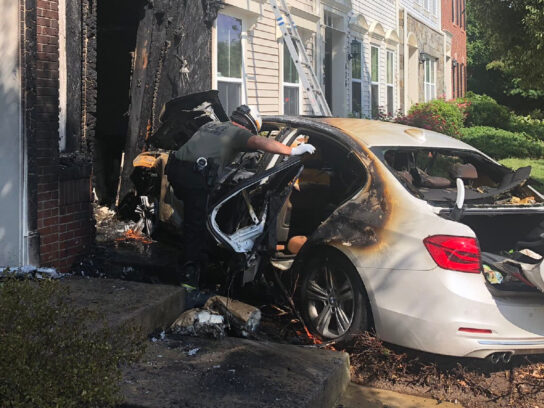 UPDATED Aug. 30 at 3 p.m.
Victor Cascella. 62, of Gaithersburg, was the driver of the car that crashed into the townhomes on Orchard Ridge Road in Gaithersburg, according to police. Cascella was pronounced dead Monday evening at a local hospital, police said.
——————————
The driver of the BMW who crashed into a townhouse complex in Gaithersburg Monday afternoon has died, according to Montgomery County Fire and Rescue spokesperson Pete Piringer.
Investigators believe a fire began in the engine compartment of the 62-year-old Gaithersburg man's car and then spread to the townhouses.
According to Montgomery County police, at 2:48 p.m., county and Gaithersburg officers as well as MCFRS personnel responded to the scene. Investigation revealed that the driver of a 2016 white BMW was traveling south on Orchard Ridge Drive when he crossed over the center median, left the road and crashed into the townhomes at 432 and 434 Orchard Ridge Dr.
Police reported that the BMW and the building became in engulfed in flames, which also damaged the units at 430 and 428 Orchard Ridge Dr.
According to Montgomery County Fire Chief Scott Goldstein, a neighbor rescued one resident and MCFRS personnel rescued another. Both rescues were done using a ladder.
As a result of the fire, two people had to be rescued from the back balconies of their unit, and six adults will not be able to live in their homes for the present time.
Damage was estimated at $400,000 to the townhomes in the 400 block of Orchard Ridge Drive.
The investigation continues, and anyone with information should contact Crime Reduction Unit detectives at 240-773-6620.
Update – Orchard Ridge Dr; based on origin & cause examination, @mcfrs Fire/Explosive Investigators believe fire began in engine compartment before spreading into vehicle passenger area & then to house; 1 adult (driver) injured; 6 adults displaced; 2 people rescued; Damage $400K https://t.co/GkZO2VmUGC pic.twitter.com/X3lgGiroDj

— Pete Piringer (@mcfrsPIO) August 30, 2022
Detectives Investigate Vehicle Crash into Gaithersburg Townhomeshttps://t.co/kigYpNTcCd#mcpnews pic.twitter.com/0LnAwnvgDu

— Montgomery County Department of Police (@mcpnews) August 29, 2022
Related Post