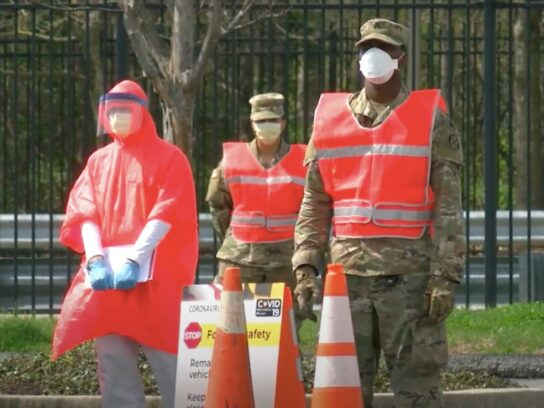 Montgomery County Health Officer Dr. Travis Gayles reemphasized the importance of getting tested for COVID-19 during a council meeting Tuesday.
In response to a question from Councilmember Craig Rice, Gayles said the county wants to prevent another wave of cases and then another wave of lockdowns that some European countries, like Italy, are currently dealing with on top of of variant strains. One component of the county's response is testing, Gayles said.
"We simply can't just idly and passively wait for everybody to get vaccinated and hope for the best," he said. "We have lots of testing options available out there for folks to utilize."
The CDC advises that people should get tested if they have COVID-19 symptoms, have had close contact with someone who tested positive, have engaged in higher risk activities such as attending a large social gathering, or have been referred to get tested by a healthcare provider or health department.
"Testing is a fundamental piece because that's how we know what the burden of disease is within our society and it gives us a better understanding of what those transmission patterns might be as the variant strains become the dominant strains of COVID[-19] in our community," Gayles said. He added that testing is necessary from an equity perspective as reopenings continue.
"Let's not forget, as we open up more things in society, a lot of the folks who are staffing the services that we are asking to open up and increase capacity are disproportionately people of color," he said.
"And so thereby they are at increased risk of exposure– because whether we're talking restaurants, retail, across the board– and so conversely, we need folks to get tested to know their status, to prevent from spreading and exposing folks in those settings from coming into contact." Free COVID-19 testing is offered at county clinics.
County Executive Marc Elrich underlined the importance of testing during his community update last week. He said testing helps track where the virus is spreading and how well the county is managing it, "and even more importantly, testing helps us identify where the variants are in the community so we can track their impact."
Montgomery County has seen a drop-off in testing, Elrich said during his COVID-19 media briefing March 3.
"I think people think that with the vaccines they don't have to worry so much about testing– it is still a critical part of our strategy because we need to know where the virus is," he said.
"And because you can still get the virus, you need to know if in fact you're positive. You can still get sick while you're waiting for the vaccine."