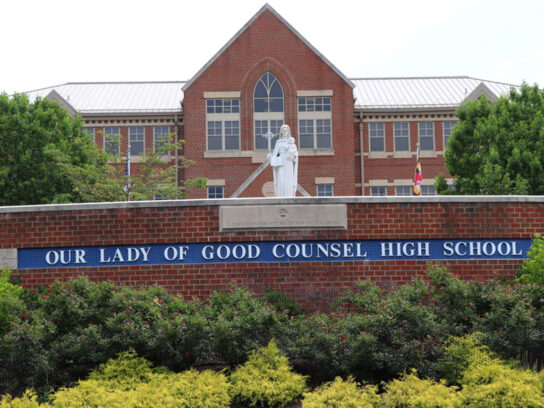 There were many disappointed students and families at Our Lady of Good Counsel High School in Olney when they learned that this Saturday's graduation was cancelled by the county's Department of Health and Human Services.
After receiving a complaint that more than 50 people would be gathering at the school this weekend, the county told school officials they could not proceed as it would be in violation of the county's Phase II rules.
"We have been very clear about the restriction," noted County Health Officer Travis Gayles.
The graduating class has 297 students, although one parent said not all students were planning to attend.
In a July 29 letter to parents of the Class of 2020, School President Paul Barker wrote, "Earlier this morning, unannounced, an Environmental Health Specialist from the Montgomery County Department of Health and Human Services arrived on campus. He was responding to a complaint from a member of the public about our plans for our graduation ceremony."
Barker told the parents the county had received one complaint, although he did not know who complained. Also, the county's non-emergency line received complaints, all noting that there would be more than 50 people gathered at the school's graduation.
Parents and students expressed "a strong desire for something like a traditional graduation," Barker noted. Therefore, the school had planned an outdoor graduation with "rigorous health and safety protocols in place," he wrote. "In addition, we are aware of peer schools that have held outdoor graduations with well over 50 persons in attendance," he wrote to the parents.
He also wrote that the county had no choice but to shut down the graduation after having received at least one complaint.
"We are, like you, blindsided. We were excited to see you return to campus. We were ready. We had ordered the chairs, the stage, the programs, the flowers, you name it. Alas, the County's decision leaves us no choice and we must cancel Saturday's graduation."
Further, he wrote, "This sure seems like rubbing salt in the wound for a thoroughly disheartening end to high school. You deserve better. When conditions permit, we look forward to finding an opportunity to gather and celebrate the Class of 2020."
One person who was upset contacted Montgomery Community Media and wrote, "What a bunch of malarky!" The letter noted the county didn't ask the school to cancel but rather, "it was more like a directive. Good Counsel High School made thoughtful plans to have a safe graduation."
https://www.instagram.com/p/CDRukPmDGqX/