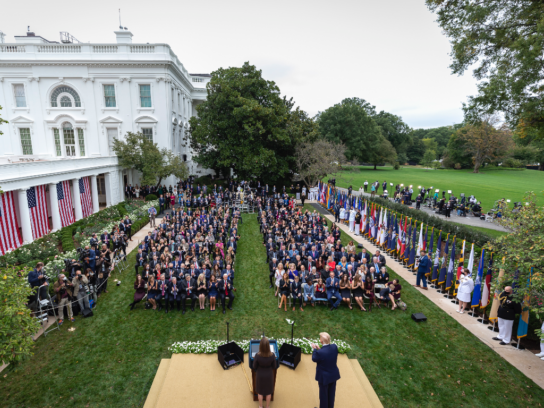 Montgomery County has joined health officers from nine neighboring jurisdictions located in Maryland, Washington D.C., and Virginia to issue a health advisory after 12 people—including President Donald Trump and First Lady Melania Trump—tested positive for the coronavirus after attending a maskless Supreme Court nomination ceremony for Judge Amy Coney Barrett in the White House Rose Garden.
The ceremony took place Sept. 26 before the first presidential debate and, according to USA Today, more than 180 people attended. After the ceremony, the president continued campaigning across the country, and USA Today estimates that these actions exposed thousands of people to the virus.
Because the White House has refused help from the Centers for Disease Control and Prevention, the 10 jurisdictions are warning that "there may be other staff and residents at risk for exposure to COVID positive individuals."
The jurisdictions are recommending that anyone who, in the last two weeks, has worked in the White House, attended the Sept. 26 Rose Garden ceremony, or may have been in contact with someone who has recently visited the White House, get a coronavirus test. However, the jurisdictions note that a negative test does not limit the 14 day quarantine length for a person who's been exposed.
On Tuesday, D.C. reported its largest one-day coronavirus case spike since June.
DC Health, led by Dr. LaQuandra Nesbitt, and nine local jurisdictions have asked individuals connected to recent White House events to contact their local health department for further guidance/questions regarding their potential need to quarantine.

Full letter below. pic.twitter.com/nmpfp6Y549

— Mayor Muriel Bowser (@MayorBowser) October 8, 2020
Full Letter to Community Members About Coronavirus Health Advisory Linked to White House Outbreak
Here's the full health advisory from Montgomery County and the other nine neighboring jurisdictions.
Dear community members:

Given the growing numbers of positive COVID cases reported from staff working in and near the White House, people who attended the event hosted by the White House on Saturday, Sept. 26, 2020, and our preliminary understanding that there has been limited contact tracing performed to date, there may be other staff and residents at risk for exposure to COVID positive individuals.

Therefore, in an effort to better understand the potential impact of persons who tested positive attending those events, and the scope of individuals who may have been exposed, we recommend that if you have worked in the White House in the past two weeks, attended the Supreme Court announcement in the Rose Garden on Saturday, Sept. 26, 2020, and/or have had close contact with others who work in those spaces or attended those events, you should get a test for COVID. Please contact your local health department for further guidance/questions regarding your potential need to quarantine.

As an additional reminder, if you are identified as a contact, having a negative test does not limit the time period within which you are required to quarantine. The Centers for Disease Control and Prevention (CDC) recommends a 14-day quarantine period from date of exposure. We strongly encourage everyone to continue following these practices to stay well, including wearing face coverings, physically distancing at a minimum of six feet between you and others, practicing handwashing and other sanitizing practices.

For the latest COVID-19 updates and information regarding testing within your community, please refer to your respective community's Covid-19 website.

Sincerely,

Health Officers from Frederick County (MD), Montgomery County (MD), Prince George's Co. (MD), Charles Co. (MD), the District of Columbia (DC), the city of Alexandria (VA), Arlington Co. (VA), Fairfax Co. (VA), Loudon Co. (VA) and Prince William Co. (VA)
Local health officers release recommendations for COVID-19 testing after White House events. https://t.co/KkMMT7BMjU pic.twitter.com/ujgZhZ4p1T

— Montgomery County DHHS (@MoCoDHHS) October 8, 2020