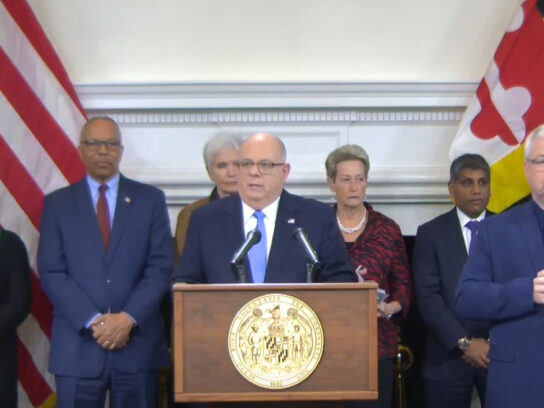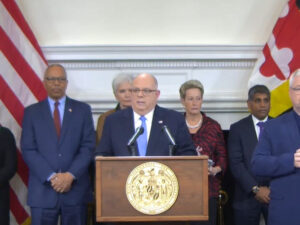 Maryland Gov. Larry Hogan held a news conference Thursday to announce major steps to prevent the spread of the coronavirus. Maryland's first case of community transmission of the COVID-19 illness, caused by the novel coronavirus, was announced earlier Thursday.
Watch the Governor's news conference below:
Hogan announced that all Maryland public schools will close from Monday, March 16 through Friday, March 27. During this time the following should take place:
All school buildings and school buses should be cleaned and disinfected.
Administrators, faculty, staff, and parents/guardians should begin to immediately prepare for and implement measures for the continuity of educational services during a prolonged period of school closure.
Plans regarding childcare services are being developed by MSDE at this time to ensure that the children of emergency services personnel have access to childcare throughout a prolonged period of school closure.
The Maryland Emergency Management Agency activation level has been raised to full.
The Governor directed the National Guard to move to a higher state of readiness to carry out any necessary emergency functions, such as food distribution or other critical areas of need.
Mass gatherings of more than 250 people are prohibited effective immediately and senior centers are closed beginning on Friday, March 13 by executive order. Senior centers are closed. This includes social, community, spiritual, religious, recreational, leisure, and sporting events.
The cruise terminal at Port of Baltimore is restricted. No passenger or crew member will be allowed to disembark at any terminal at the Port of Baltimore from any passenger vessel that has made a call at a port outside of the United States since January 31, 2020.
The Maryland Department of Health (MDH) is advising hospitals to adopt new procedures to limit visitation, including:
No one under the age of 18 is permitted to visit, including in all waiting areas and common spaces.
Only one adult visitor per patient in all areas of the hospital.
Visitors should be screened for flu-like symptoms.
Visitors who have traveled internationally may not visit for 14 days after arrival into the United States.
Visits to correctional facilities are suspended.
Governor Hogan is directing the Department of Budget and Management to implement a period of mandatory telework, beginning Friday, March 13, across state agencies for all non-essential state employees.
Hogan said, regarding childcare centers, that an executive order advises the centers to take the same direction as schools and senior activity centers.

— Deirdre Byrne (@DeirdreByrneMCM) March 12, 2020
The decision to close schools was made by @MdPublicSchools superintendent. This decision was also made in the state of Ohio.

Hogan says Maryland wants to be at the forefront of taking action to address the pandemic.

— Deirdre Byrne (@DeirdreByrneMCM) March 12, 2020
Hogan talks upcoming election primary:

— it's an issue we pushed off from today, Hogan said. It will be addressed in days to come.

— Deirdre Byrne (@DeirdreByrneMCM) March 12, 2020
Hogan says the press is important, and he's going to continue to update the press, but the state will limit the number of people in future press conferences. @mymcmedia

— Deirdre Byrne (@DeirdreByrneMCM) March 12, 2020
Evans thanks @GovLarryHogan for minimizing visitors to hospitals. Evans says this is a tough action especially for families with loved ones in hospitals, but the action is taken to keep people safe.

— Deirdre Byrne (@DeirdreByrneMCM) March 12, 2020
Dr. David Marcozzi, Associate Chair of Population Health, endorses @GovLarryHogan's decision.

Marcozzi says, "By putting aggressive steps in place that the governor just outlined…these are steps we can all adopt."

Marcozzi urges the private sector to adopt these measures.

— Deirdre Byrne (@DeirdreByrneMCM) March 12, 2020
All MCPS schools will be closed starting March 16, 2020 until March 27, 2020. This decision was made by Governor Larry Hogan and Dr. Karen Salmon today, March 12, in response to the COVID-19 (coronavirus) pandemic. Additional information will be posted at https://t.co/3UJVLWkg2H.

— MCPS (@MCPS) March 12, 2020
Related Post:
Maryland to Close Public Schools Starting Monday, Prohibit Large Gatherings