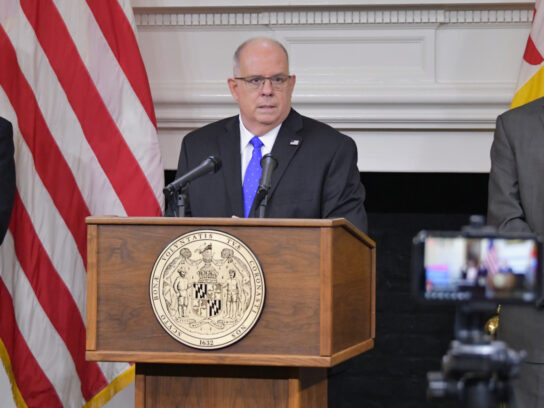 El gobernador Larry Hogan anunció, en una conferencia de prensa el jueves, un nuevo alivio financiero de emergencia para empresas e inquilinos. A la reunión se le unieron la secretaria de Comercio de Maryland, Kelly Schulz, y el secretario de Vivienda de Maryland, Ken Holt.
Hogan no anunció ninguna nueva restricción de coronavirus en todo el estado, pero dijo, con base en el creciente número de casos en Maryland, "está claro que estamos experimentando un aumento posterior al Día de Acción de Gracias". Esto se produce cuando el Departamento de Salud de Maryland informó su segundo número más alto de nuevos casos diarios de coronavirus desde el inicio de la pandemia.
Hogan dijo que firmó una orden ejecutiva para proteger a las empresas de aumentos repentinos en los impuestos, por desempleo. También ordenó al Departamento de Comercio de Maryland que perdonara a las empresas que utilizaron un préstamo de emergencia del programa estatal de préstamos de ayuda de emergencia de $75 millones que comenzó en marzo. Los préstamos se convertirán en subvenciones, por lo que no tendrán que reembolsarse.
This will help about 1,650 businesses that are receiving loans through this program. https://t.co/tH30wdAEyy

— Michael Ricci (@riccimike) December 10, 2020
Hogan dijo que el estado financiará $25 millones en proyectos de crédito fiscal para viviendas de bajos ingresos, lo que permitirá la construcción de 2,000 nuevas unidades de vivienda asequible. El estado también está proporcionando $12 millones a través de su Programa de Obras de Vivienda de Alquiler, que según Hogan creará más trabajos y proyectos de construcción.
El estado también proporcionará $94 millones en subvenciones para ayudar a los residentes de Maryland con diabetes, dijo Hogan.
Marylanders are urged to speak to their physician about their risk for diabetes, and go online to know their risk.

An easy 60-second risk test from the American Diabetes Association can help everyone: https://t.co/BKkRKdT9En

— Maryland Department of Health (@MDHealthDept) December 10, 2020
Hogan instó al Congreso a aprobar otro proyecto de ley de ayuda, idealmente esta semana. El Gobernador dijo que habló con la presidenta de la Cámara de Representantes de Estados Unidos, Nancy Pelosi (D-Calif.) y otros líderes del Senado, esta semana.