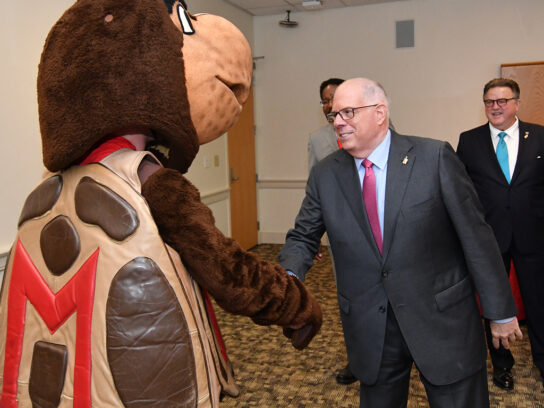 El gobernador Larry Hogan anunció el miércoles otro incentivo para llevar la vacuna COVID-19 a los jóvenes residentes de Maryland.
La Comisión de Educación Superior de Maryland (MHEC) y el Departamento de Salud de Maryland han formado una asociación para regalar $1 millón de dólares en becas universitarias a 20 residentes de Maryland vacunados de 12 a 17 años.
La iniciativa, llamada Promoción de Becas VaxU, tiene como objetivo aumentar el número de jóvenes de Maryland vacunados contra COVID-19.
Beginning July 12, @MDHealthDept and @MDMHEC will select and award a $50,000 scholarship, or the equivalent of full tuition and fees at a public, in-state institution of higher education, to anyone between the ages of 12 and 17 who is vaccinated in Maryland.

— Governor Larry Hogan (@GovLarryHogan) July 7, 2021
A partir del 12 de julio, todos los lunes hasta el 5 de septiembre, el estado otorgará a dos residentes de Maryland vacunados, de 12 a 17 años, una beca de $50,000. La beca es equivalente al costo de la matrícula completa y las tarifas en una institución de educación superior pública en el estado. El Día del Trabajo, 6 de septiembre, el estado anunciará cuatro ganadores de becas.
Como explica MHEC en su sitio web, "los ganadores recibirán una beca en forma de un fideicomiso universitario prepago o un plan de inversión universitaria de Maryland 529 para cubrir la matrícula y las cuotas de una universidad o colegio público de cuatro años".
Learn more about the #VaxU Scholarship Promotion here: https://t.co/nBOjGXzXl9

— Governor Larry Hogan (@GovLarryHogan) July 7, 2021
Cualquier joven de Maryland elegible que haya recibido la vacuna COVID-19 en el estado se inscribe automáticamente en el concurso. Los residentes de Maryland de 12 a 17 años que aún no han sido vacunados aún pueden ingresar en los sorteos simplemente vacunándose.
Hogan hizo el anuncio en College Park de la Universidad de Maryland.
"Promociones como esta son solo una forma más en la que estamos reforzando la importancia de vacunar a todos y cada uno de los habitantes de Maryland que podamos contra el COVID-19, especialmente a nuestros jóvenes", dijo Hogan. "Si alguno de nuestros jóvenes de 12 a 17 años o sus padres necesitaban otra buena razón, ahora pueden vacunarse para tener la oportunidad de ganar una beca universitaria de $ 50,000".
Según Hogan, los ganadores serán seleccionados con el mismo generador de números automático que se utilizó para seleccionar a los ganadores de la promoción VaxCash de $ 2 millones.
El incentivo se paga con fondos de ayuda federales que el estado recibió del American Rescue Plan.