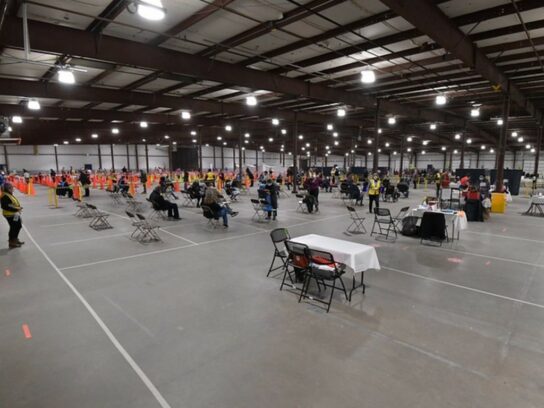 During a press conference on Tuesday, Gov. Larry Hogan announced that a mass vaccination site is opening at Montgomery College in Germantown the week of April 5.
It is one of six mass vaccinations that will open in Maryland in April. By the end of April, Maryland will have a total of 12 mass vaccination sites. Marylanders interested in getting vaccinated at a state-run mass vaccination site can preregister online if they are included in the state's phase 1, 2A, or 2B vaccination groups.
Today @GovLarryHogan announced the state will be working with Montgomery County,@holycrosshealth and @MDHealthDept to open a mass vax site at @montgomerycoll Germantown. When it is fully operational the site will administer 3000 vaccines per day. @albornoz_gabe @RicePolitics pic.twitter.com/mibH75OMXG

— Montgomery Council (@MoCoCouncilMD) March 23, 2021
The Germantown mass vaccination site is expected to have the capacity to administer 3,000 COVID-19 vaccinations per day.
County Executive Marc Elrich released a statement about Hogan's announcement, thanking the governor, state health officials, Montgomery College, and Holy Cross Health for their partnerships in developing a mass vaccination site.
"With thousands of Montgomery County residents leaving the County and driving to other jurisdictions to get vaccinated, we are pleased to have a site that will provide better access for our residents and other Marylanders," Elrich said in the statement.
County Executive Marc Elrich and County Council Applaud Announcement of Mass Vaccination Site Coming to Montgomery County https://t.co/YaVnVg4JzC pic.twitter.com/569ZFMLHEL

— Montgomery Council (@MoCoCouncilMD) March 23, 2021
Elrich urged county residents to get vaccinated when they are able. "As Maryland's largest and most diverse community by race, socio-economic status, and culture, we have been and will continue to make sure that our vaccination efforts are equitable throughout the County," he said.
"This mass vaccination site will be more accessible by public transit than other locations around the State, making it easier for people who depend on public transportation to get to the site," Elrich said.
3) VACCINE UPDATE. Maryland has administered 2,252,974 COVID-19 vaccines and is averaging 43,882 shots per day.

More than 70% of all Marylanders over 65 have been vaccinated, and nearly 35% of all Marylanders over 18 have been vaccinated.

— Kata D. Hall (@katadhall) March 23, 2021
The news comes as Maryland is entering phase 2A of its vaccine distribution plan, meaning Marylanders ages 60 and older can register to sign up for a COVID-19. By April 27, Maryland is set to enter vaccine phase 2, which would allow Marylanders 16 and older to sign up for vaccine appointments.
Hogan said governors were told by the White House to expect vaccine supplies, particularly the Johnson & Johnson vaccine, to ramp up in the upcoming weeks.
Local leaders have taken to Twitter to express their excitement after weeks of pushing the state to open a mass vaccination site in Montgomery County.
IT'S OFFICIAL! Mass vax site coming to #MoCo at @montgomerycoll Germantown Campus on April 5.

My deepest gratitude & thanks to our outstanding residents, community partners and state and federal reps who joined us in calling for a mass vaccination site in Montgomery County.

— Councilmember Tom Hucker (@CmHucker) March 23, 2021
Great news from @GovLarryHogan ! Montgomery County's first mass vaccination site will be opening the week of April 5 and will be at @montgomerycoll Germantown Campus. Thank you to everyone in the community who helped us to advocate and make this site a reality. #VaccineEquity

— Nancy Navarro (@nancy_navarro) March 23, 2021
Confirmation of the good news @ReadyMontgomery and @MoCoDHHS delivered last week. This should be able to ramp-up to deliver 3,000 doses a day if we get that much supply: https://t.co/6Q3pXshdbd

— Councilmember Andrew Friedson (@Andrew_Friedson) March 23, 2021
Clearing up any confusion, @GovLarryHogan has officially declared that Montgomery County –– Maryland's largest and most diverse jurisdiction –– will finally get a mass vaccination site the week of April 5 at Montgomery College's Germantown campus.

— Evan Glass (@EvanMGlass) March 23, 2021
Related Post:
Hogan: Former CDC Director Redfield to Serve as Senior Health Adviser