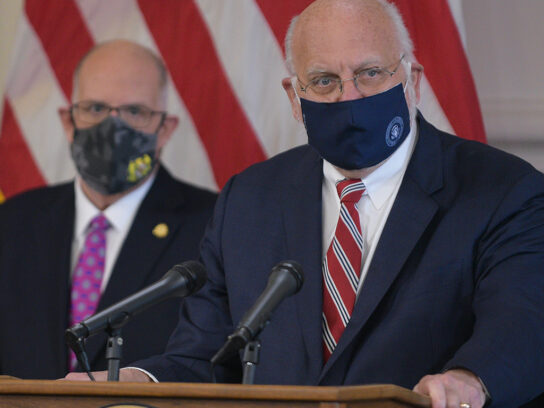 Former CDC Director Dr. Robert Redfield is joining Maryland's coronavirus response team as a public health senior advisor. Gov. Larry Hogan made the announcement at a press briefing on Tuesday, where he was joined by Redfield.
"[H]e will advise us on a wide range of immediate priorities, including planning our response to the coronavirus variants, our COVID-19 vaccine campaign, and our science-based plan for fully and safely reopening our state," Hogan said.
Hogan noted that Redfield is a Marylander. In addition to leading the CDC, he cofounded the University of Maryland's Institute of Human Virology and he previously served as vice chair of medicine at the University of Maryland School of Medicine.
The state's vaccination rate has hit a new record high of 35,730 shots per day. Maryland is receiving an initial allocation of 49,600 doses of the Johnson & Johnson vaccine, 100% of which will be deployed across the state this week. pic.twitter.com/ldIRUClvXi

— Governor Larry Hogan (@GovLarryHogan) March 2, 2021
During his time as CDC Director, Redfield faced criticism for eroding the center's credibility in dealing with the pandemic and allowing the Trump White House to pressure the agency to revise its reopening guidelines. Dr. William Foege, who served as the CDC Director under former Presidents Jimmy Carter and Ronald Reagan, even wrote to Redfield in September urging him to speak out against the Trump administration.
"You could, upfront, acknowledge the tragedy of responding poorly, apologize for what has happened and your role in acquiescing, set a course for how C.D.C. would now lead the country if there was no political interference," Foege wrote to Redfield in a letter obtained by USA Today.
Hogan acknowledged the criticism of Redfield to a reporter and said he was "very proud of Dr. Redfield's leadership at the CDC."
"It was under his leadership, he was on the operation warp speed board that made these incredible accomplishments that are enabling us to save lives right now," Hogan said. "I'm not going to sit here and defend everything [former President Donald Trump] said or did or relitigate the past and I'm not sure Dr. Redfield wants to either.  But I'm not sure most of that criticism was ever directed at him or his leadership of that agency, which I am very proud of."
https://www.instagram.com/p/CL7rY7ehjgu/
Redfield also said he was proud of the CDC, saying "it remains the most premier public health agency in the world."
"I am, if anything, I was disappointed of during my time at CDC, it was the inconsistency of messaging," Redfield said. "But I stand behind my time at the agency.  I think, again, this was the greatest public health crisis in this nation for over a century, and I think we did respond in a manner in which helped advance the efforts to get this pandemic under control."
Redfield also said he visited the M&T Bank Stadium mass vaccination site in Baltimore on Monday and was encouraged to see so many Marylanders embracing vaccines.
"Vaccines are the most important gift of science to modern medicine, and today we have three approved COVID-19 vaccines, Pfizer, Moderna, and now [Johnson & Johnson].  All three of these vaccines are highly effective in preventing serious disease, hospitalization, and death," Redfield said.
Hogan on Johnson & Johnson Vaccine, Mass Vaccination Sites, Equity, Cuomo Controversy
Hogan announced at Tuesday's coronavirus press briefing that the state has received an initial allocation of 49,600 doses of the Johnson & Johnson (J&J) vaccines, which will be deployed throughout the state this week. He said that the White House informed governors during a Tuesday morning call that the federal government will not be able to ship more J&J vaccines to states for the next two weeks.
"[The White House is] promising that by [March 18] we will be getting another shipment. I can assure you that whatever supply we receive, we are ready to immediately deploy and to get in to the arms of Marylanders," Hogan said.
Hogan said the White House told governors it was working to increase the supply of vaccines by the end of March and throughout April and May, which will enable the state to expand mass vaccination sites. By the end of March, Maryland will have at least one mass vaccination site in each region, Hogan said.
During today's COVID-19 update, I provided updates on Maryland's mass vaccination sites, which will be serving thousands of Marylanders daily.

Details: https://t.co/pEZLV9yONg pic.twitter.com/g9pUNiQi6V

— Governor Larry Hogan (@GovLarryHogan) March 2, 2021
Hogan did not announce any plans for a mass vaccination site in Montgomery County, but state health emergency management officials are in discussions with several counties that have expressed interested in partnering with the state on additional mass vaccination sites.
"Expanding the hours, the capacity, volume, and the number of mass vaccination sites is all contingent on future increases in supply from the federal government," Hogan said.
Hogan said he will hold another press conference on Thursday with Maryland National Guard Brigadier Gen. Janeen Birckhead, who leads the Maryland Vaccine Equity Task Force.
Hogan said during the press conference, "we lay out a very detailed plan, an operational logistic plan, statewide plan, on equity, and it's going to be the first one in America."
Hogan was also asked about the controversy surrounding New York Gov. Andrew Cuomo (D), who has been accused of unwanted advances by three women. Cuomo is the chair of the National Governor's Association; Hogan was the chair last year and currently serves as a member-at-large.
"I think obviously these are serious allegations against the governor and they need to be looked into," Hogan said.
Hogan said there's been no discussion with the governors about what Gov. Cuomo's role with @NatlGovsAssoc should be.

"I think we'll wait to see how this [investigation] progresses," said Gov. Hogan.

— Deirdre Byrne (@DeirdreByrneMCM) March 2, 2021