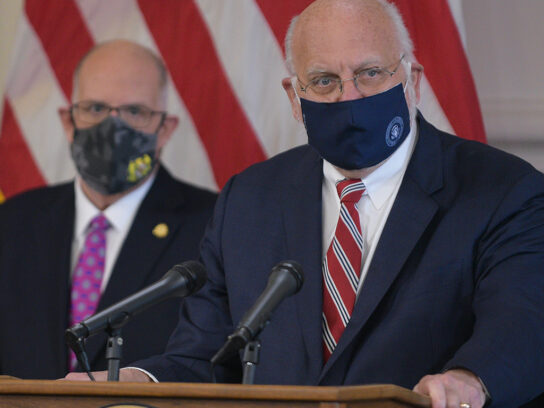 Gov. Larry Hogan defended former Center for Disease Control (CDC) Director Dr. Robert Redfield after Redfield said he believes the coronavirus most likely "escaped" from a laboratory in Wuhan, China. Redfield is a public health senior adviser to Maryland's COVID-19 response team.
"I am of the point of view that I still think the most likely etiology of this pathogen in Wuhan was from a laboratory— you know, escaped," Redfield said during a CNN interview.
During a press conference Thursday, Hogan said, "I think some of the people that criticized him had not seen the comments and they jumped to conclusions, quite frankly."
"He said nothing whatsoever that was inflammatory. He said it was his personal opinion, he's one of the most educated experts on virology in the world, [had been] running the CDC — he has much more information than I do." Hogan said he watched the entire CNN special and believes Redfield did a very good job explaining his professional opinion. He said none of the CNN correspondents thought it was offensive.
On Dr. Redfield's recent remarks on CNN, Hogan says: "He said nothing whatsoever that was inflammatory. He said it was his personal opinion, he's one of the most educated experts on virology in the world." @mymcmedia

— Maryam Shahzad (@maryam_mcm) April 1, 2021
"Nobody thought it was in any way inflammatory," Hogan said. Following Redfield's comments, Maryland Comptroller Peter Franchot called on the state to cut ties with him in a letter Tuesday. In the letter, addressed to State Health Department Secretary Dennis Schrader, Franchot urged Schrader and the state administration to "sever all ties to Dr. Redfield and make policy decisions based on the advice of medical professionals and science."
"His comments are especially concerning and reckless as hate crimes and bigotry against Asian-Americans and Pacific Islanders have skyrocketed over the last year," Franchot wrote. On Thursday, Hogan told reporters it is disgusting that some are equating Redfield's opinion with anti-Asian discrimination.
"This is a very serious problem of Asian hatred and violence that I am very much aware of, having a wife and three daughters and four grandkids. I've been one of the leaders speaking out," Hogan said.
"For them to equate him giving his professional opinion with people attacking Asians — it was outrageous and disgusting in my opinion, political nonsense. And they should probably apologize to Dr. Redfield," he said.
A joint report from a World Health Order-China study about the origins of COVID-19 released Tuesday found that a "laboratory origin of the pandemic was considered to be extremely unlikely" and that animal-to-human transmission is possible-to-likely. However, during a press conference the same day, WHO director-general Dr. Tedros Adhanom Ghebreyesus said that he does not believe assessment of the laboratory possibility was extensive enough and that further investigation is required.
In a joint statement Tuesday, the U.S. government and 13 other governments expressed concerns regarding the WHO-China study about delays and lack of access to data. The statement calls for a renewed commitment from WHO and member states to access, transparency and timeliness.
Hogan: "They should probably apologize to Dr. Redfield." @mymcmedia

— Maryam Shahzad (@maryam_mcm) April 1, 2021