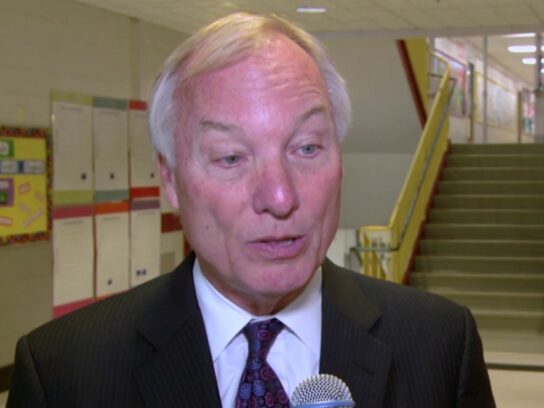 After former CDC Director Dr. Robert Redfield said he believes the coronavirus most likely "escaped" from a laboratory in Wuhan, China, Maryland Comptroller Peter Franchot is calling on the state to cut ties with Redfield, who was appointed a public health senior adviser to Maryland's coronavirus response team on March 2.
"I am of the point of view that I still think the most likely etiology of this pathogen in Wuhan was from a laboratory— you know, escaped," Redfield said during a CNN interview published last Friday.
"Other people don't believe that, that's fine. Science will eventually figure it out. It's not unusual for respiratory pathogens that are being worked on in a laboratory to infect the laboratory worker." Redfield said he was "not implying any intentionality."
"It's my opinion, but I am a virologist. I have spent my life in virology. I do not believe this somehow came from a bat to a human, and at that moment in time, the virus came to the human, became one of the most infectious viruses that we know in humanity for human to human transmission," he said.
"I just don't think this makes biological sense."
On Monday, Franchot said it was outrageous that Redfield was peddling a "debunked Trump-era conspiracy theory" about where COVID-19 came from.
"As a current adviser to the governor, it's reckless and irresponsible to publicly promote misinformation — especially when this kind of divisive rhetoric has already led to such devastating consequences against our Asian communities," Franchot wrote on Twitter.
I urge Dr. Redfield to retract his statement, or step down from his position as adviser to the governor. 3/3

— Comptroller Peter Franchot (@peterfranchot) March 29, 2021
He urged Redfield to retract his statement or step down from his position as adviser. In a letter Tuesday to State Health Department Acting Secretary Dennis Schrader, Franchot urged Schrader and the state administration to "sever all ties to Dr. Redfield and make policy decisions based on the advice of medical professionals and science."
The state health department has no comment regarding Redfield's remarks or Franchot's call for the state to sever ties with him, Spokesperson Charlie Gischlar told MyMCM in an email.
Mike Ricci, spokesperson for Gov. Larry Hogan's office, noted to MyMCM that the World Health Organization's (WHO) director-general said that the laboratory leak theory deserves further study.
"As for the Comptroller, I think this is what happens when you have campaign operatives write your letters," Ricci said of Franchot's message to Schrader.
A joint report from a WHO-China study about the origins of COVID-19 released Tuesday found that a "laboratory origin of the pandemic was considered to be extremely unlikely" and that animal-to-human transmission is possible-to-likely. However, during a press conference the same day, WHO director-general Dr. Tedros Adhanom Ghebreyesus said that he does not believe assessment of the laboratory possibility was extensive enough.
"Further data and studies will be needed to reach more robust conclusions," he said. "Although the team has concluded that a laboratory leak is the least likely hypothesis, this requires further investigation, potentially with additional missions involving specialist experts, which I am ready to deploy."
Ricci pointed out that the U.S. and other governments "have also rejected the WHO's report as incomplete."  In a joint statement Tuesday, the U.S. government and 13 other governments expressed concerns about the WHO-China study.
"With such an important mandate, it is equally essential that we voice our shared concerns that the international expert study on the source of the SARS-CoV-2 virus was significantly delayed and lacked access to complete, original data and samples," the statement reads. It calls for a renewed commitment from WHO and member states to access, transparency, and timeliness.