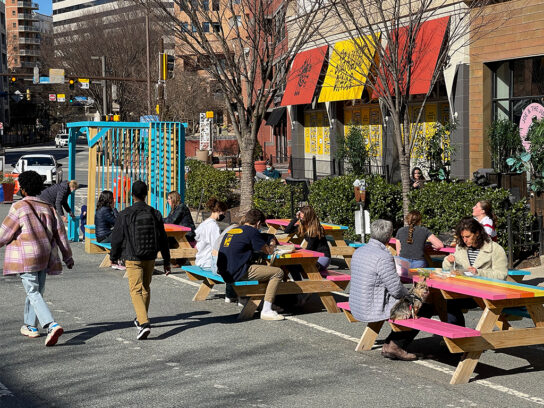 Gov. Larry Hogan announced at a press conference Tuesday that the state will start easing capacity limits at bars, restaurants, and other establishments.
Hogan's updated executive order means that starting Friday at 5 p.m., capacity limits for indoor and outdoor restaurants and foodservice establishments will be lifted. The order notes that restaurants and bars can only maintain seated and distanced service. Crowding in bars will not be permitted.
With sustained vaccine progress and significant improvements in our key COVID-19 metrics, today I announced that we will be easing certain mitigation measures in our state.

Details: https://t.co/mG00tkGAfy pic.twitter.com/0erIVqaLUL

— Governor Larry Hogan (@GovLarryHogan) March 9, 2021
The executive order also lifts state capacity limits on retail businesses, religious facilities, fitness centers, personal services (such as salons), and indoor recreational establishments. Large indoor and outdoor venues for weddings, concerts, conventions, theaters, racing facilities, and sporting venues can start operating at 50% capacity.
Hogan also announced an executive order allowing medical adult daycare centers to reopen with appropriate safety measures in effect.
Capacity limits will also be lifted on retail businesses, religious facilities, fitness centers, casinos, personal services, and indoor recreational establishments. Larger outdoor and indoor venues may begin operating at 50% capacity.

— Governor Larry Hogan (@GovLarryHogan) March 9, 2021
Hogan said, "[A]ll of our vaccine progress along with all of our sustained positive improvements in positivity case rate and hospitalizations have enabled us to continue to follow the science and to be able today to take significant steps to further ease more of the mitigation measures that are currently in place."
While capacity limits are easing, Hogan said that the statewide mask mandate and other health orders, like physical distancing, remain in place.
We need to continue doing the things that can keep us safe, but there can be no doubt that we are closer to the light at the end of the tunnel and a return to some sense of normalcy in our lives. Spring will soon be upon us, and sunnier days are ahead.

— Governor Larry Hogan (@GovLarryHogan) March 9, 2021
"The very simple step of wearing masks continues to be the single best mitigation strategy we have to stop the spread of COVID-19," Hogan said.
The Maryland Department of Health travel advisory remains in place, but quarantine restrictions on out-of-state travel have been lifted. Marylanders are still encouraged to get a coronavirus test when returning from out-of-state.
Hogan said the state is continuing to work with local jurisdictions on opening more mass vaccination sites once the vaccine supply increases. He noted that the Hagerstown mass vaccination site opens on March 25.
Local Leaders Signal County Unlikely to Follow Hogan's New Orders
Montgomery County officials have not announced if they would go along with Hogan's statewide executive orders. Mary Anderson, a spokesperson for Montgomery County Health and Human Services, said in an email to MyMCM the county is still "digesting" the governor's new orders.
"We hear about the Governor's plans/announcement at the same time as the public does so we're reviewing it at this moment," Anderson wrote.
Before Hogan's press conference on Tuesdays, Montgomery County Health Officer Dr. Travis Gayles spoke before the Montgomery County Council and said he suspected the governor would speak at his press conference about updated reopening guidance.
Gayles signaled that the county would continue to operate at a slower pace than the state when it came to easing restrictions.
"I want our folks at home to understand that we are continuing to monitor the situation and provide guidance that is not overly aggressive, that would put us in a position where we could be extremely vulnerable to the presence of variant strains, as well as the potential to see our numbers increase significantly," Gayles said.
Here's a look earlier today at the @MoCoCouncilMD meeting. Dr. Travis Gayles talks about the possibility of Hogan announcing the lifting of restrictions. It sounds like the county will look into easing some things, but it looks unlikely the county will go as far as Hogan's order. pic.twitter.com/qWdkb4jRyH

— Deirdre Byrne (@DeirdreByrneMCM) March 9, 2021
Ensuring case numbers don't increase significantly is especially important as children are starting to return to schools, Gayles said. According to Gayles, county health officials are looking into relaxing some restrictions—one such restriction could be childcare capacity returning to the state level.
Dr. Earl Stoddard, the director of Montgomery County Emergency Management and Homeland Security, said officials are drafting an executive order with updated public health guidance which will likely be sent to the council this week for a vote on March 16.
After Hogan's press conference, two members of the Montgomery County Council took to Twitter to criticize the governor for relaxing restrictions.
Council President Tom Hucker compared Hogan to Texas Gov. Greg Abbott (R), who recently announced restaurants could operate at full capacity and—unlike Hogan—lifted the state's mask mandate.
Better headline: "Unsatisfied with Maryland's ranking among the worst states for vaccine rollout, and pressured by TX Gov. Greg Abbott, Gov. Hogan redoubles his efforts to drive cases up and MD's ranking down."https://t.co/hyMX01DuDK

— Tom Hucker (he/him) (@tomhucker) March 9, 2021
Councilmember Will Jawando tweeted that the guidance "flies in the face of public health guidance, including from Dr. Fauci."
While residents continue to hunt for vaccines and our health departments were given no notice of the change. #Hogan

— Will Jawando (@willjawando) March 9, 2021