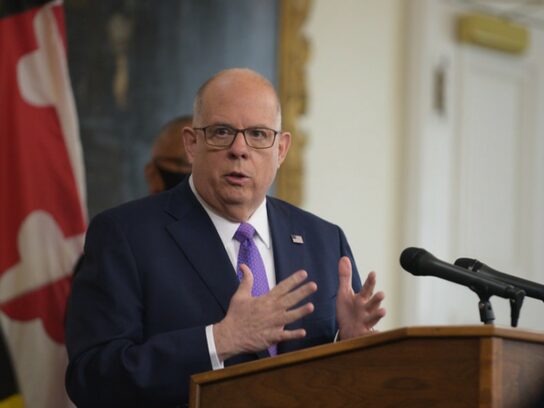 Gov. Larry Hogan introduced a $1 billion stimulus and tax relief package Monday that includes direct stimulus payments to qualifying Marylanders.
The Recovery for the Economy, Livelihoods, Industries, Entrepreneurs and Families (RELIEF) Act must be passed by the state legislature before it can take effect. The 2021 legislative session begins Wednesday, and Hogan said he will introduce the act as emergency legislation that day, and will ask both houses to move immediately so it can go into effect and the stimulus can go out. The governor's administration talked generally with lawmakers and according to Hogan, "I think we're all in agreement that the legislative session should focus on economic relief, and we'll be hopefully getting everybody on board with moving forward as quickly as possible."
The act includes up to $750 in direct stimulus for families and up to $450 for individuals. The payments would go out in two rounds and eligibility is tied to the earned income tax credit (EITC). Initial payments of $500 and $300 will go out to families and individuals, respectively, who filed for the EITC. A second round of $250 or $150 will come at a later date for EITC-filers.
No application is necessary, and state stimulus payments will not affect federal stimulus. Annual income qualifications for the stimulus are as follows:
$50,954 individual or $56,844 married filing jointly (three or more qualifying children)
$47,440 individual or $53,330 joint (two children)
$41,756 individual or $47,646 joint (one child)
$15,820 individual or $21,710 joint (no children)
Gov. Hogan announces the RELIEF Act of 2021: a $1 BILLION relief package.

Includes direct stimulus payments for MDers with low/moderate income: $750 for families, $450 for individuals. They can go out as soon as the act is passed. @mymcmedia

— Maryam Shahzad (@maryam_mcm) January 11, 2021
Hogan said the payments will help about 400,000 residents and will total about $267 million. State Comptroller Peter Franchot has said the state should use its rainy day fund to give qualifying Marylanders $2,000 payments. During Monday's presser, Hogan said it would be impossible to give Marylanders that much money. The state doesn't have the power to write $2,000 checks, Hogan said, and does not want to drain the rainy day fund.
"We believe this is actually getting more money in the hands of more people that need it and getting it out much faster without taking irresponsible actions," Hogan said.
Also under the RELIEF Act, the governor said $180 million would be used to repeal all state and local income taxes on unemployment benefits and $300 million would go toward immediate tax relief for restaurants and small businesses. About 55,000 businesses will be able to keep up to $12,000 in sales tax over the next four months, Hogan said. The governor also said $218 million will be used to extend his executive order that prohibits sudden and substantial increases in unemployment taxes for small businesses. $40 million will keep businesses safe from any tax increases caused by using state loans or grant funds.
Hogan also said new federal relief gives Maryland $15 billion, including $10 billion in paycheck protection.