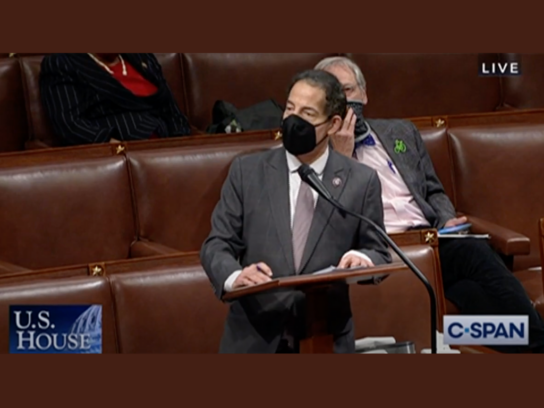 Se espera que la Cámara de Representantes de EE.UU. vote el martes una legislación del representante Jamie Raskin que pide al vicepresidente Mike Pence que invoque la Enmienda 25 y despoje al Presidente Donald Trump de sus poderes presidenciales antes de que termine su mandato el 20 de enero.
El líder de la mayoría de la Cámara de Representantes, Steny Hoyer, demócrata de Mechanicsville, intentó aprobar el proyecto de ley de Raskin por consentimiento unánime el lunes por la mañana, pero el representante republicano Alex Mooney de Virginia Occidental bloqueó la moción.
Raskin, demócrata del condado de Montgomery, dijo en un tuit el domingo que su resolución le pide a Pence que "movilice al gabinete para que declare lo obvio: el presidente Trump no puede desempeñar con éxito los deberes del cargo".
Si el vicepresidente y el gabinete no actúan, la presidenta de la Cámara de Representantes, Nancy Pelosi, dijo que la Cámara presentará una legislación de acusación.
Tomorrow we advance my Resolution calling on VP Pence to mobilize the Cabinet to state the obvious—President Trump is unable to successfully discharge the duties of office—and to immediately transfer powers to the VP under section 4 of the 25th Amendment. https://t.co/OTSsvvCxUk pic.twitter.com/6bAOTDgk4l

— Rep. Jamie Raskin (@RepRaskin) January 11, 2021
Cuando el organismo controlado por los demócratas aprueba la solicitud de la 25a Enmienda, Pelosi insta a Pence a "responder dentro de 24 horas", dijo en una carta a sus colegas el domingo por la noche anunciando los intentos de esta semana de destituir a Trump.
Raskin, que forma parte del Comité Judicial de la Cámara de Representantes, también redactó el pedido de juicio político de los demócratas de la Cámara, junto con los representantes Ted Lieu de California y David Cicilline de Rhode Island. Se dio a conocer el lunes y tiene más de 200 demócratas confirmados.
El artículo acusa a Trump de "incitación a la insurrección" por la violenta violación del Capitolio de Estados Unidos la semana pasada que fue infligida por una multitud de sus partidarios.
"En todo esto, el presidente Trump puso en grave peligro la seguridad de Estados Unidos y sus instituciones de gobierno", dice el artículo. "Amenazó la integridad del sistema democrático, interfirió con la transición pacífica del poder y puso en peligro una rama del gobierno".
A menos que Pence active la enmienda 25, la Cámara está lista para votar sobre el artículo de juicio político a finales de esta semana.