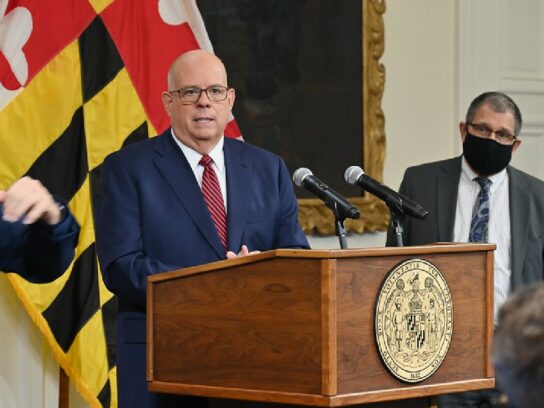 During a COVID-19 press briefing Tuesday, Gov. Larry Hogan (R) denounced any validity to speculations of running for a U.S. Senate seat.
"I was certainly humbled by that…but as I have repeatedly said, I don't aspire to be a United States senator, and that fact has not changed," Hogan said. "I spoke with Sen Van Hollen to let him know he can rest easy and get a good night's sleep tonight."
I want to let you know I will not be a candidate for the U.S. Senate. When I pledged to the people of Maryland that I was going to give this job everything I've got every single day that I'm given, I meant it—that commitment is more important to me than any political campaign. pic.twitter.com/M7J0AVCyfV

— Governor Larry Hogan (@GovLarryHogan) February 8, 2022
When asked about aspirations for a presidential run in 2024, Hogan did not dismiss the idea, saying he wouldn't be opposed to the idea, regardless if former President Donald Trump aims to run again.
Hogan's term as governor is set to end in January 2023. "I really want to focus on finishing this job," Hogan said. "We'll take a look and see what the future holds after that."