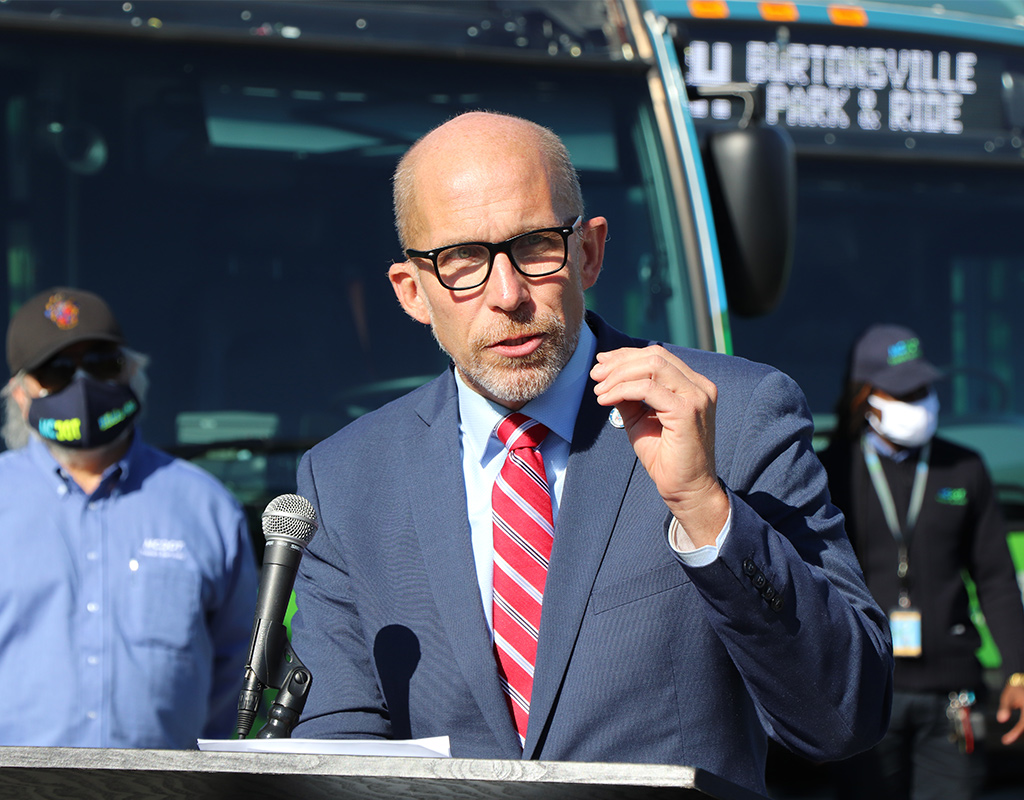 Montgomery County Council President Tom Hucker spoke at a media briefing on Monday urging the Maryland House of Delegates to increase the state's coronavirus relief funding.
On Dec. 23, Hucker joined a group of activists and politicians for the launch of the Maryland United for COVID Relief Now Coalition. The group's goal is to release more money to Marylanders from the state's rainy day fund. On Jan. 22, a day after the coalition held another rally for the release of rainy day funds, Gov. Larry Hogan announced the Relief Act of 2021—a $1 billion stimulus and tax relief package, which included direct stimulus payments to Marylanders with a low or moderate income.
The Associated Press reported on Jan. 27, that Maryland's Senate plans to add $520 million to Hogan's relief package.
Hucker is satisfied to see the Senate increasing the relief package, but he says the proposal still isn't enough because low income Marylanders are especially hurting from the pandemic.
"I'm very hopeful though that the House will now rise to the occasion and amend the Senate package in ways to greatly increase the direct cash assistance to suffering Maryland families and to small businesses," Hucker said.
The Senate has proposed several hundred dollars if you qualify for EITC. The House should make the relief checks larger and make more people eligible.
Contact your lawmakers. Link in the petition. https://t.co/vBL3UI3ovJ

— Tom Hucker (he/him) (@tomhucker) January 29, 2021
Full Statement from Hucker After Maryland Senate Increased Relief Package
Councilmember Hucker released the following statement on Jan. 27 after the Maryland Senate announced it would add more funds to Hogan's relief package:
In addition to the Council's ongoing efforts to advocate for more vaccine doses from the state, I have been working with leaders across Maryland to keep pressure on Gov. Hogan to release money from the state's Rainy Day Fund, a fund that contains more than $928 million set aside for unforeseen economic crises, to help our struggling residents and small businesses.

"Today, Sen. President Bill Ferguson and Democratic leadership in the Maryland Senate unveiled the Maryland Senate Recovery Now Amendment, which will provide immediate relief to Marylanders in need.

"This follows a campaign we launched on Wednesday, Dec. 23, where I was joined by struggling business owners and tenants as well as Sen. Ben Cardin, Treasurer Nancy Kopp, Comptroller Peter Franchot and my counterparts Baltimore City Council Chair Nick Mosby, Anne Arundel County Council Chair Sarah Lacey, Howard County Council Chair Liz Walsh, and others for a virtual press conference urging the governor to take action to provide immediate relief to Maryland's residents and Main Street businesses.

"The coalition, Maryland United for COVID Relief Now, held a virtual rally on Saturday, Jan. 10, where thousands of Marylanders from all 24 major jurisdictions, along with the Maryland NAACP, CASA, the National Organization for Women – Maryland, Maryland State Education Association, 1199 SEIU, AFSCME Maryland, ATU Local 689 and many other groups called on Gov. Hogan to provide immediate relief from the Rainy Day Fund and the FY20 State surplus.

"Immediately following the rally, the governor announced his RELIEF Act, which would provide $450 stimulus checks to some low-income Marylanders and other relief measures. While the announcement was a step in the right direction, it was not nearly enough to provide real and immediate relief to those who need it most.

"We are so grateful that our leaders in the Maryland Senate heard our demands and listened to the united voices of Marylanders across the state to implement real and immediate support to help our communities recover from the devastating pandemic."
Related Posts
Maryland Officials Plead For State to Release $1 Billion in Rainy Day Funds
Hogan Proposes Direct Stimulus Payments as Part of New $1 Billion Relief Package
Rep. Trone: Relief for State, Local Governments is Nonnegotiable