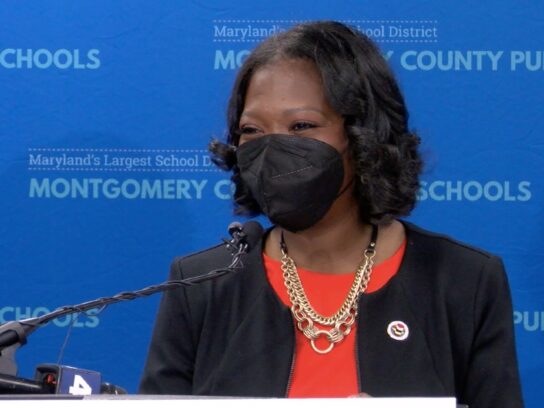 Dr. Monifa McKnight will be the first woman and second person of color to be superintendent of Montgomery County Public Schools (MCPS). 
The MCPS Board of Education voted unanimously Tuesday to appoint McKnight to the position. There were four finalists and more than 5,000 community members contributed to the selection process, according to MCPS. 
It is currently a conditional appointment contingent upon contract negotiations and approval from the state superintendent. McKnight is set to begin her term effective July 1. She has been Interim Superintendent since June 1, 2021 after then-Superintendent Dr. Jack Smith retired for family reasons. She was previously deputy superintendent.
Dr. Paul Vance was the first African American to be MCPS superintendent and held the position from 1991-1999. He passed away in 2015.
During a press conference following her appointment, McKnight said officials planned to share specific steps toward safety and security in schools during that afternoon's school board meeting. The measures come following a shooting at Magruder High School last month. McKnight also said officials will present before the council during a meeting Wednesday. 
In an early January community update, McKnight apologized for what many community members called poor communication and a lack of transparency from the school system around COVID-19 measures and school operations.
On Tuesday, she said MCPS will spend more time with stakeholders as a first step toward rebuilding trust with the community.