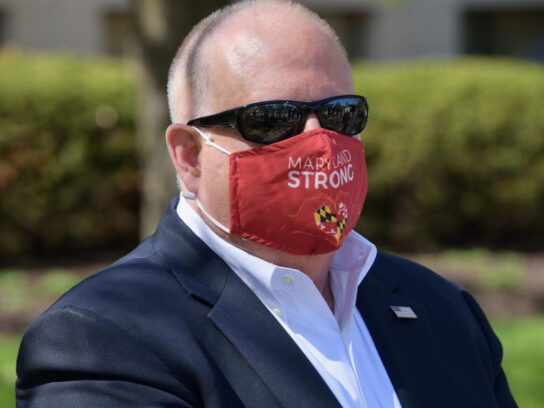 Gov. Larry Hogan announced several new measures to tighten Maryland's coronavirus restrictions at a news conference Tuesday afternoon.
The news comes as coronavirus cases are surging across the country. Maryland has had 13 days with more than 1,000 new coronavirus cases; the state positivity rate is 6.85%, and the case rate is 49 cases per 100,000 residents. Hogan said hospitalizations and ICU levels are currently at their highest levels since June.
"We are in a war right now, and the virus is winning. Now more than ever, I am pleading with the people of our state to stand together a while longer to help us battle this surging virus," Hogan said.
Here are some of the Maryland Health Department emergency orders Hogan announced:
Hospital visitations statewide have been restricted until further notice, with exceptions for compassionate care, parents or guardians visiting minors, childbirth, support for disabled patients.
Hospitals urged to avoid elective procedures that aren't urgent.
Hospitals nearing capacity can transfer patients to other hospitals equipped to provide them with the necessary care.
Visitation is limited at all nursing homes. Indoor visitation is limited to compassionate care visits, but visitors will be required to provide proof of a negative coronavirus test result 72 hours before the visit.
The state is doubling Rapid Response teams, which are deployed to nursing homes and other hotspots.
Hogan did not go as far as governors in California, Michigan, Oregon, or Washington, all of whom shutdown indoor dining ahead of Thanksgiving. But he did impose orders, already in tighter effect in Montgomery County, to limit the number of people eating at indoor restaurants.
Indoor visitation at nursing homes will be significantly limited and all visitors must have proof of a negative test within the past 72 hours. Testing will be mandatory twice weekly for staff and weekly for residents. We are also doubling the number of rapid response teams.

— Governor Larry Hogan (@GovLarryHogan) November 17, 2020
Here's a look at the orders that go into effective Friday:
Nursing home staff will be required to take twice-weekly coronavirus tests; nursing home residents required to take weekly tests.
At 5 p.m., restaurants, bars, facilities that serve food and alcohol will be required to close by 10 p.m. In-person dining operations will not be permitted between 10 p.m. to 6 a.m. (Montgomery County already ceased its late-night alcohol program Nov. 6)
At 5 p.m. Friday, all retail and religious institutions will have to revert back to stage two reopening restrictions, by operating at 50% capacity. (Since Nov. 13 in Montgomery County, fitness centers, indoor food service establishments, museums and art galleries, retail establishments, and religious facilities have been required to operate at 25% capacity or 25 people—whichever is lower.)
Effective 5 p.m. Friday spectators will no longer be allowed to attend events at professional or collegiate stadiums or racetracks.
All bars, restaurants, and venues serving food and alcohol must close between 10 p.m. and 6 a.m., except for the purposes of carryout and delivery. We have taken this action based on increasing reports that compliance with public health protocols drops dramatically late at night.

— Governor Larry Hogan (@GovLarryHogan) November 17, 2020
Gov. Hogan to Meet with Biden Thursday; Urges Marylanders to Get Tested, Cooperate with Contact Tracers
Hogan is urging people who eat at restaurants to stay physically distanced and to not eat at a table with more than six people. He also urged residents to get tests.
"In addition to masks, avoiding crowds, and social distancing, one of the most important things you can do to protect your friends and family is to get tested for COVID-19," Hogan said,
Hogan said he met with the White House coronavirus task force on Monday and Tuesday afternoon he will be on a National Governor's Association call, speaking with governors around the country. Hogan, along with the nation's governors, is scheduled for a call with President-elect Joe Biden on Thursday to talk about the coronavirus.
WATCH 🔊

Gov. Larry Hogan says he will be participating in a governors call Thursday with President-elect Joe Biden to discuss #COVID19.

He says he is "very concerned" about the apparent lack of transition with the current Trump Administration.

MORE ⤵️ pic.twitter.com/YdM8aja1EF

— Mikenzie Frost (@MikenzieFrost) November 17, 2020
Hogan said he feels that concerned that there hasn't been a proper transition for the President-elect, especially in light of the coronavirus. He said he's hopeful this will improve.
"We have to make sure that there's a smooth handoff," Hogan said. "We have a brand new team that has not been involved…and that's a problem."
Related Post:
Number of New Daily COVID-19 Cases Hits New High in Montgomery and Maryland