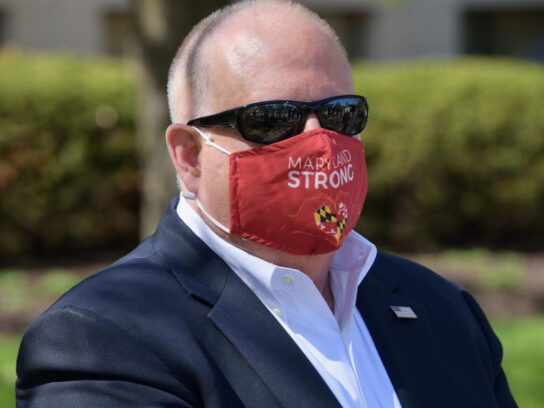 Gov. Larry Hogan announced he'll unveil a statewide coronavirus recovery plan on Friday called "Maryland Strong: Roadmap to Recovery."
Hogan made the announcement at a news conference Tuesday outside of Laurel Medical Center in Prince George's County, which has been reopened and renovated to address the coronavirus crisis. PG County currently has the most coronavirus cases in the state with 3,875.
https://www.instagram.com/p/B_TBl_kh39v/?igshid=1hm0n8aucscjj
Laurel Medical Center is being staffed by 400 medical professionals managed by University of Maryland Medical Systems and has 135 beds, which include 35 intensive care beds for COVID-19 patients.
Hogan said his roadmap to recovery plan will be gradual and has been developed with the consultation of doctors and medical experts. Before anything in the state reopens, Maryland must get past these four building blocks: (1) expanding testing capability, (2) increasing hospital surge capacity, (3) increasing supply of personal protective equipment, and (4) developing stronger contact tracing operations.
Hogan said Maryland has expanded its testing capacity by 5000% in the last month. Testing will continue to improve in Maryland thanks in large part to the 500,000 coronavirus tests Hogan obtained from South Korea Saturday.
Hogan also referenced President Donald Trump's press conference on Monday where he mentioned federal facilities in Maryland that can be used for testing.
I just sent @POTUS a letter to formally accept his generous offer to allow the State of Maryland to utilize federal labs for #COVID19 testing. We are ready to move forward with this important federal-state collaboration. pic.twitter.com/5ibHvj5vS8

— Governor Larry Hogan (@GovLarryHogan) April 21, 2020
"We are looking forward to moving forward on this important federal-state collaboration," Hogan said.
Maryland is launching a contact tracing platform called COVID Link, which would monitor the state's positive COVID-19 cases. The platform will use medical data from Chesapeake Regional Information System.
"With these crucial components now firmly in place, on Friday we will be introducing our 'Maryland Strong: Roadmap to Recovery' which will lead us safely out of this pandemic and into a brighter, more hopeful future."
Hogan said Maryland's supply of personal protective equipment is improving, adding, "but I would say we have a long way to go."