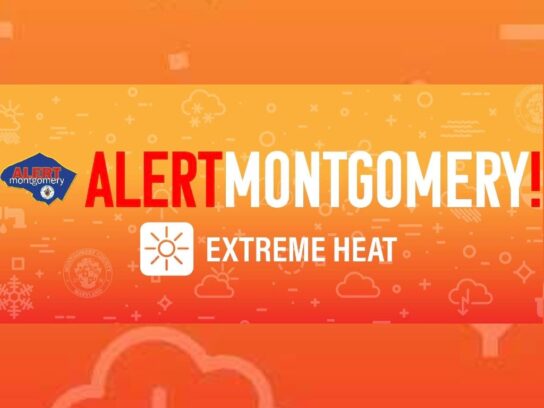 For the second day in a row, a hyperthermia alert has been issued for Montgomery County due to extreme heat.
In effect from noon to 5 p.m. on Aug. 5, temperatures are expected to exceed 95 degrees. High levels of heat affect a person's natural ability to regulate body temperature, creating danger when safety measures are not taken.
County officials remind residents to stay hydrated with water or fruit juice, avoid extended exposure and strenuous outdoor activities, and to check on elderly relatives and neighbors, and those vulnerable to overheating. In addition, always check for children or pets before locking a vehicle, as temperatures in a hot car can become deadly quickly.
Heat-related illness, such as heat cramps, can occur with over exposure. Signs of heat exhaustion include paleness, muscle cramps, tiredness, headache, dizziness or fainting, and nausea or vomiting. Heat stroke can be distinguished by symptoms such as extremely high body temperature (above 103 degrees Fahrenheit), reddened, hot, dry skin with no sweat, a rapid, strong pulse, dizziness, and a confused state.
Persons experiencing signs of heat stroke should seek medical attention immediately. Additional safety information and resources can be accessed on Montgomery County's website.
🌡️ Good Morning Montgomery County! A #HyperthermiaAlert has been issued for today, Friday, Aug. 5 from noon until 5 p.m. For safety information, visit ➡️ https://t.co/8ce3WRvH5V. @ReadyMontgomery pic.twitter.com/MdG6plOhxg

— Montgomery County MD (@MontgomeryCoMD) August 5, 2022