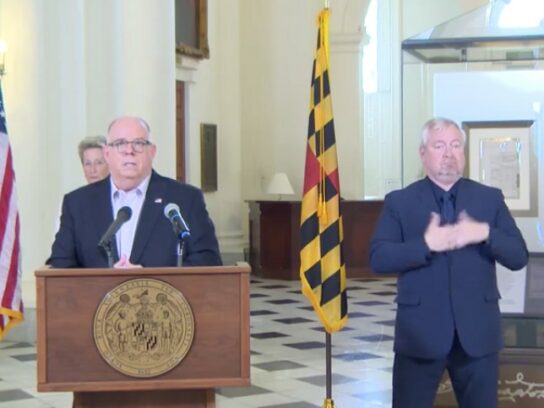 The number of COVID-19 cases in Maryland has tripled in less than a week, Gov. Larry Hogan said at a press conference Friday. 
"We now have widespread community transmission. This virus is everywhere and it is a threat to nearly everyone," he said.
There are 2,758 cases in the state, in every jurisdiction. 416 patients are currently hospitalized, with 43 percent of them in intensive care. 159 people previously hospitalized have now recovered and are released from isolation, Hogan said. 
In the past 16 days, 42 Marylanders have died from the illness. 
"I wish that I could tell you when we're going to turn the corner… or when any of us will be able to get back to living a normal life again," Hogan said. 
"Unfortunately I'm not able to do that. We simply don't know just how bad things are going to get or exactly how long this is going to last."
LIVE: COVID-19 Update – April 3, 2020https://t.co/sbZ3cyR8Lf

— Governor Larry Hogan (@GovLarryHogan) April 3, 2020
There are clusters of cases at 60 nursing homes and long-term care facilities. While older people are more vulnerable to COVID-19, Hogan said 50 percent of cases in Maryland are now people under the age of 50. 335 patients are in their 20s, 485 in their 30s, 509 in their 40s, and five infants.  
"This disease does not discriminate and no one is immune," he said. 
Hogan announced that he ordered hospital surge planning to be finished six weeks ahead of schedule. The state is working on hospital expansions, including to hotels and convention centers. Initial construction is done for a field hospital at the Baltimore Convention Center. 
The most important thing the state is doing for hospitals is getting more ventilators, said Deputy Secretary for Public Health Services Fran Phillips.
There are 17 cases among state correctional facilities employees/inmates, said Maryland Secretary of Public Safety and Correctional Services Robert Green. They include three inmates, eight contractual employees, four correctional officers, and two parole and probation employees.