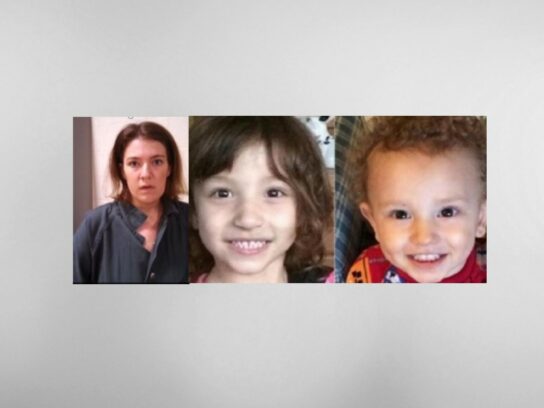 Montgomery County local Catherine Hoggle, charged with the murder of two of her children, is set to appear in court Thursday, Aug. 4, 2022, to determine whether or not she is competent to stand trial.
In 2014, a missing persons report was filed for Hoggle and her two youngest children, then 3- and 2-year old Sarah and Jacob. When officers discovered Hoggle, she attempted to flee, but was ultimately taken into custody.
During questioning, Hoggle told the police she had been resting in the Germantown area, but refused to inform them about the whereabouts of Sarah and Jacob. Montgomery County Police conducted searches in over a dozen areas surrounding Clarksburg and Darnestown, but police, cadaver K-9s, and regular K-9s recovered no evidence.
Hoggle was determined incompetent to stand trial and criminally committed to the Clifton T. Perkins Hospital Center, where she has been receiving treatment since her arrest.
A Montgomery County grand jury indicted Hoggle on charges for the murders of Sarah and Jacob in 2017. The jury gave the courts until Dec. 2022 to determine if Hoggle could be restored and competent to stand trial. The Montgomery County State's Attorney's Office has provided the courts with status updates regarding Hoggle every six months. She has been repeatedly found to be incompetent to withstand trial and to pose a danger to the public.
In Feb. 2020, Montgomery County Circuit Court Judge Robert Greenberg denied Hoggle's attorney's motion to dismiss the case. The Maryland Court of Special Appeals Murder also denied a motion to dismiss in Sept. 2021.
The state of Maryland has a law allowing defendants charged with felonies but deemed incompetent to be held up to five years for the potential of restoration to stand trial. Troy Turner, the father of Sarah and Jacob, twice attempted working with legislators in 2019 to propose a bill that would allow defendants in some cases, like Hoggle's, to be held for up to 10 years for potential restoration.
The United States does not permit the trial of people who cannot defend themselves in criminal cases. "In Maryland, to be competent to stand trial, you need to understand the nature and the object of the proceedings against you and be able to assist in your defense," says Dr. Jessica Hasson, a licensed psychologist. "In other words, you need to have an understanding of the courtroom personnel and procedures, reason about your case, understand the charges against you, and assist your attorney."
Hasson works for the State by conducting competency tests for criminal defendants. She does not conduct tests at Perkins and has no professional or legal connection with Hoggle's case.
In a Twitter thread, Hasson breaks down the procedural. If the defendant is found to be competent, then they enter a plea and the case goes to trial. If the defendant is ultimately deemed incompetent and charges are dropped, then the judge must rule on dangerousness. Incompetency is different than an insanity plea or ruling, which maintains criminal responsibility.
"A person is dangerous if due to mental illness or intellectual disability that makes them a danger to themselves, other people, or personal property," Hasson said. If the defendant is deemed not dangerous, then they are released back into society. If the defendant is proven to be dangerous, then they are committed to a state run treatment facility like Perkins.
With charges dropped, the legal system loses all hold over the defendant and they are rendered to the Maryland Department of Health. The person's commitment to a facility is changed from criminal to civil. The person must remain at the treatment facility until they no longer meet the criteria for a civil commitment.
As Maryland's law stands, if Hoggle's trial is not held by Dec. 2022, the charges against the defendant will be dropped. In accordance with a 27-page ruling issued Sept. 1, 2021, by the Maryland Court of Special Appeals.
Hoggle's defense attorney requested a judge make the final decision regarding Hoggle's competency to stand trial, which will be addressed during the Thursday hearing at 1:30 p.m. The judge will rule regarding Hoggle's competency in accordance with the court's findings, not necessarily those of the doctors who have repeatedly found the defendant to be incompetent.
At the Thursday hearing, the judge will also have the option to drop the charges against Hoggle altogether, according to State's Attorney John McCarthy. This decision would effectively change Hoggle's criminal commitment to a civil one.
Turner said he has witnessed Hoggle get out of a civil commitment numerous times.
In an interview with FOX 5, Turner said he's scared Hoggle will target a third family member if released, as police believed that was her intent in 2014. "No one's going to necessarily know what she's doing, where she's going to show up," Turner said. "And like we've been saying for the last six years, whatever their condition, [Sarah and Jacob] deserve to come home."
McCarthy said if the charges are dropped Thursday, and Hoggle is eventually restored through civil commitment, they could reinstitute charges. The State's Attorney said only time will tell the outcome.
Related:
Appeals Judge Denies Request to Dismiss Murder Charges Against Hoggle