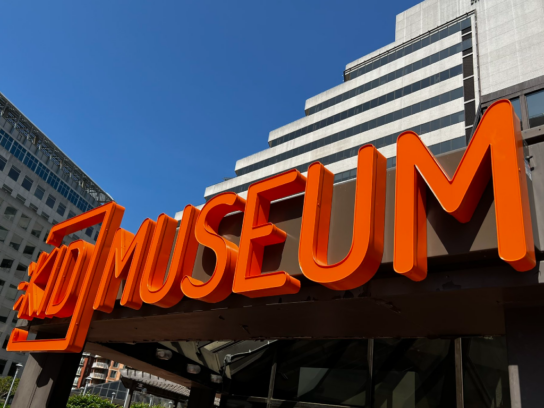 Sold out crowds and a ribbon cutting ceremony on Saturday highlighted the grand opening weekend of the KID Museum's new flagship location in Bethesda.
Among the ribbon cutting attendees were Montgomery County Executive Marc Elrich, County Councilmember Gabe Albornoz, U.S. Senator Chris Van Hollen, and U.S. Representative Jamie Raskin. County Councilmember Hans Riemer stopped by Sunday and tried his hand at circuit-building.
Excited to be in #Bethesda today for opening of @KIDMuseumMD. This facility is a game changer for @MontgomeryCoMD. They have already served over 330 thousand kids and, now, will be able to do so much more. Congrats to all those who made this happen for our kids. pic.twitter.com/OFof6LBGND

— County Exec Marc Elrich (@MontCoExec) May 21, 2022
Teaching kids STEM (science, technology, engineering and mathematics) skills through fun puzzles, games, and activities, the KID Museum has served over 330,000 people since opening in 2014. The new Bethesda Metro Center location provides a larger space for activities ranging from wood shop to robotics.
Senior Storytelling Advisor Emma Starr said they were expecting up to 850 people to try their hand at textiles and coding for the grand opening weekend.
The museum was created for kids ages 4 through 14 but the museum offers activities that adults can enjoy as well such as coding Ozobots that follow commands via marker lines on a piece of paper.
During the week, the KID Museum is only open for school-related programs such as field trips. For now, general public availability is from 10 a.m. – 4 p.m. on Sundays. Tickets cost $15 and provide a timed entry for up to two hours. Starr says they're looking forward to kids signing up for the summer programs as well.
A STEM-sational time at the KID Museum reopening! My heart was full seeing teachers, students, and makers of the future enjoying this incredible space.

PS: Check out my circuit-building skills! pic.twitter.com/F7MFpPPF8f

— Hans Riemer (@hansriemer) May 22, 2022
Some exhibits include visiting artist projects, such as this Guatemalan sawdust carpet. Kids are then able to create their own masterpieces in the workshop. @mymcmedia pic.twitter.com/YmaCOGj0ny

— Gianna Gronowski (she/they) (@gmgronowski) May 22, 2022
Senior Storytelling Advisor Emma Starr says while they're maxed out today with an expected crowd of 850 visitors, don't worry! The @KIDMuseumMD is officially opened for business, and hopes to see you at their summer camp programs! @mymcmedia pic.twitter.com/TQdSX5na70

— Gianna Gronowski (she/they) (@gmgronowski) May 22, 2022
The original KID Museum is housed in the lower floor of Davis Library in Bethesda.