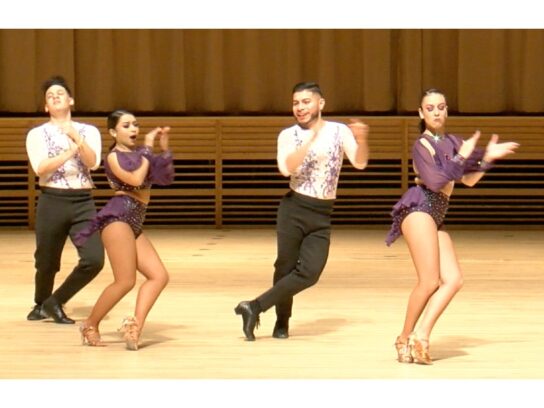 The 11th Latin dance competition was held on Monday at the Music Center at Strathmore in Bethesda.
After a two-year hiatus due to the Covid-19 pandemic, the non-profit organization After School Dance Fund brought back its annual dance competition, that featured six Montgomery County high schools.
The event was attended by Montgomery County council members, school leaders, and Congressman Jamie Raskin received a special award for public service, courage and tenacity.
Here are some tweets from the event:
Last night I got to emcee the 11th annual Latin Dance Competition at @strathmore. Blown away by our talented students & thankful for Baila 4 Life for directing this important program. It was a fun/memorable night! pic.twitter.com/xmK3hMxpA9

— Councilmember Gabe Albornoz (@albornoz_gabe) November 23, 2021
Celebrating the arts at the 21st annual Latin Dance competition! ⁦@MCPS⁩ ⁦@Baila4Life⁩ ⁦@strathmore⁩ pic.twitter.com/Y1mCeJMEPQ

— Board of Education, At-large member (@KarlaSilves_BOE) November 23, 2021
Live from the 2021 @MCPS Latin Dance Competition!! 💃🏽 Kicking things off is the amazing Ardiente Dance Company!! pic.twitter.com/9jamoNpcpW

— Will Jawando (@willjawando) November 23, 2021
Congrats to Ms. Brown and Gburg's Sabor Latino on their 1st PLACE AWARD in the Senior Division at the 21st Annual Latino Dance Competition #MakingGHSProud pic.twitter.com/Ax7O9j8wBZ

— Cary Dimmick (@GburgPrincipal) November 23, 2021
We did it, Calor Gladiators! ¡Lo hicimos, Calor Gladiators! FIRST PLACE! ¡Primer lugar! pic.twitter.com/g1g0kSLKri

— Dr. Jon Garrick (@NorthwoodPrin) November 23, 2021
Fantastic event! So glad we were able to attend in person this year. Congratulations to all the participants! https://t.co/xVvPedO4MR

— Brenda Wolff (@brendawolff1) November 23, 2021