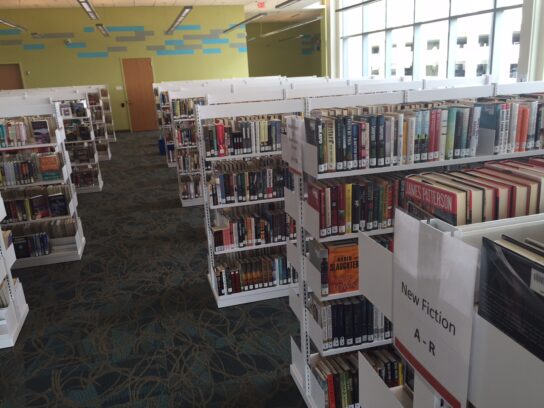 After backlash from residents and community leaders, Montgomery County will be reopening some of its public libraries and senior centers.
On June 1, six library branches will reopen. Then, on June 14 two of the county's seven senior centers will reopen.
The libraries that will reopen are:
Connie Morella Library, 7400 Arlington Road, Bethesda
Gaithersburg Library, 18330 Montgomery Village Ave.
Marilyn J. Praisner Library, 14910 Old Columbia Pike, Burtonsville
Olney Library, 3500 Olney-Laytonsville Road
Rockville Memorial Library, 21 Maryland Ave.
Silver Spring Library, 900 Wayne Ave.
The senior centers that will reopen are:
Holiday Park Senior Center, 3950 Ferrara Dr., Silver Spring
Damascus Senior Center, 9701 Main St., Damascus
The libraries will be open by appointment only for browsing, picking up holds and using computers and printers. During this phase of reopening, collaboration rooms, study rooms, meeting rooms, and discovery rooms will not be available to reserve. They will be open 10 a.m. to 6 p.m. on Monday, Wednesday, Friday and Saturday; and noon to 8 p.m. on Tuesdays and Thursdays.
"Although the digital resources, virtual programs and 'Holds To Go' service provided by our dedicated staff were incredibly popular over the past year, we know how much the residents of the County value being able to visit their public libraries, and we are looking forward to welcoming people back to our buildings," said Montgomery County Public Library Director Anita Vassallo in a statement.
As recently as last week, County Executive Marc Elrich said, "I don't have enough staff right now to open up all the libraries."
According to County Executive Office spokesperson Scott Peterson, no merit library staff person was removed from the payroll during the pandemic. Also, according to Peterson, "No staff will be laid off to hire people to support branch operations." However, he added that due to the current hiring freeze, the libraries have "an unusually large number of vacant positions."
According to the county's operating budget there are 233 full time library employees and 234 are listed in the proposed FY 2022 budget, an increase of one. Under part time employees, it lists 209 during this fiscal year and 208 in 2022, a decrease of one.
Total expenditures for the 23 county libraries is proposed to increase by .7% in 2020 to $42,705,607.
MCPL will see an expected 85% decrease in fines. The county libraries no longer are charging for most overdue materials. Income from library fines is down from $494,346 during Fiscal Year 2020 to the proposed $46,000 in Fiscal Year 2022.
MCPL shuttered as soon as the pandemic began. Then, on July 6, 2020, it initiated its Holds to Go program, where library card holders could request a book and then pick it up without actually entering the library. Between then and Feb. 11, 1.4 million books have been taken out through this process.
The county will continue to use the Wheaton and White Oak Senior Centers as vaccination sites. Long Branch Senior Center will remain a full-time homeless shelter and Margaret Schweinhaut in Silver Spring and North Potomac Senior Centers will provide summer programming for children until August.
Montgomery County Recreation Director Robin Riley said in a statement: "COVID-19 has been hard for everyone and our seniors are one of the hardest hit groups. Throughout the pandemic we have successfully provided virtual programs and outdoor programs, and now we can safely begin the reopening of the Holiday Park and Damascus Senior Centers."
We are ready to begin reopening @MCPL_Libraries buildings & @MoCoRec senior centers for in-person activities. Many of these buildings are currently & temporarily repurposed for other pandemic-related needs. We appreciate your continued patience. https://t.co/shTudn63wy pic.twitter.com/9YcIgccghk

— County Exec Marc Elrich (@MontCoExec) May 10, 2021
According to Elrich, the library and senior center staffs have provided important resources during the pandemic. "This reopening process will continue to evolve as many of our buildings and facilities are currently temporarily repurposed for other pandemic-related needs. We appreciate everyone's continued patience, understanding, and compliance to COVID-19 safe practices while we reopen these buildings."
The reopening news comes after backlash from the community about the fact that it took so long to reopen libraries, as COVID-19 restrictions for schools, restaurants, and sports were all significantly eased.
MyMCM spoke to Councilmember Hans Riemer Monday morning who was expecting the announcement to be made. Riemer said that having about 25% of the county's library facilities reopened "is just not enough."
"Libraries are not being used for homeless shelters, they're not being used for providing vaccinations, they're just sitting there," Riemer said.
Related Posts:
One Year Later, County Public Library Buildings Still Not Fully Open
Elrich: 'I Don't Have Enough Staff Right Now to Open Up All the Libraries'