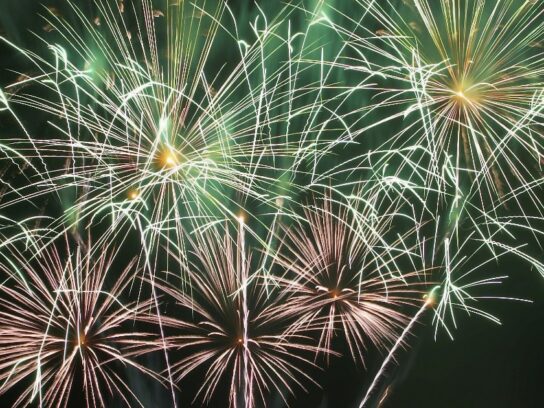 El condado de Montgomery está de regreso a sus festividades, previas a la pandemia, del 4 de Julio con fuegos artificiales en Germantown, Kensington, Gaithersburg y Rockville.
"Es genial poder reunirse nuevamente y disfrutar de los fuegos artificiales y las celebraciones", dijo el ejecutivo del condado Marc Elrich. "Sé que muchos los han extrañado. Estos son los primeros en varios años; estamos encantados de regresar y hemos apreciado mucho la cooperación y la comprensión de todos sobre la necesidad de proteger la salud pública".
El 2 de julio, los fuegos artificiales despegarán en Albert Einstein High School, 11135 Newport Road, Kensington. El evento comienza a las 6 p.m. con un concierto de Joe Falero Band, luego Quiet Fire sube al escenario a las 7:30 p.m. Se espera que los fuegos artificiales comiencen a las 9:15 p.m.
El estacionamiento está limitado a personas con discapacidades. Los espectadores deben tomar un autobús gratuito desde el Westfield Wheaton Mall, 11160 Veirs Mill Road a partir de las 5:30 p.m.
Germantown Glory en South Germantown Recreational Park, 18041 Central Park Circle, se llevará a cabo el 4 de julio. La celebración comienza a las 7 p.m. con un concierto de Quiet Fire. Los fuegos artificiales se presentarán alrededor de las 9:15 p.m.
Los espectadores pueden llevar sillas, mantas y refrigeradores. Habrá vendedores de comida en ambos eventos. No se permiten bebidas alcohólicas ni mascotas.
La ciudad de Rockville también celebra el Día de la Independencia con festividades en Mattie J.T. Stepanek Park, 1800 Piccard Drive, el 4 de julio. Vertigo Red actuará a las 7:00 p.m., y a las 8:45 p.m., el alcalde y el concejo saludarán a la multitud seguido de la interpretación del himno nacional. Vertigo Red volverá a actuar hasta que comiencen los fuegos artificiales alrededor de las 9:15 p.m.
Hay estacionamiento gratuito en lotes a lo largo de Shady Grove y Gaither Roads y Piccard Drive.
Los alimentos y bebidas estarán disponibles para comprar. Las sillas y las mantas están permitidas solo a partir de 100 pies del escenario. Los espectadores pueden llevar su propia comida.
Partes del Parque Stepanek tendrán acceso limitado antes del evento. El parque para perros cerrará el 1 de julio a las 7 a.m. hasta las 11 a.m. 5 de julio. Las áreas alrededor de los fuegos artificiales, incluidos los campos de fútbol, las canchas de tenis, los parques infantiles y los estacionamientos, cerrarán a las 7 a.m. del 3 de julio a las 11 a.m. del 5 de julio.
Gaithersburg celebrará la independencia de Estados Unidos el 2 de julio con un SummerFest en Bohrer Park en Summit Hall Farm. El evento gratuito presenta música, comida y actividades seguidas de un espectáculo de fuegos artificiales. El evento se llevará a cabo de 6 p.m. a 11:30 p.m.
Takoma Park no albergará un espectáculo de fuegos artificiales. Sin embargo, A Party in the Streets of Takoma Park comienza el 4 de julio a las 7 p.m. en 7500 Maple Street.