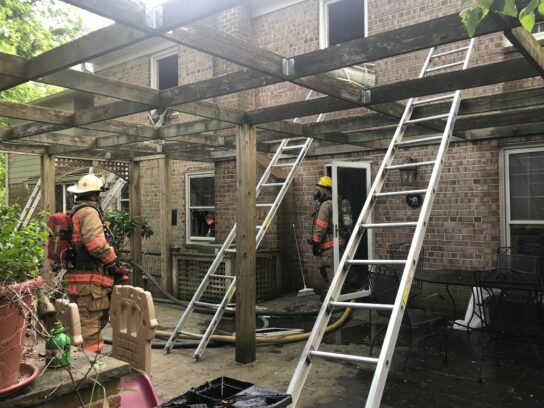 Updated (3:20 p.m.): In a statement Tuesday, Montgomery County Police said detectives are conducting a death investigation and that no foul play is suspected in Ragheb Abou Zeineddine's death.
[hr]
Original (10:50 a.m.): A man and his dog died in a Potomac house fire on Monday, Montgomery County Fire and Rescue Service (MCFRS) Chief Spokesperson Pete Piringer said.
Ragheb Abou Zeineddine, 75, was unable to self-evacuate and was transported to a hospital, where he succumbed to his injuries, Piringer wrote on Twitter.
MCFRS responded Monday afternoon to a house fire at 1401 Kersey Lane and found Zeineddine unconscious on the second floor. Piringer said he likely died from smoke inhalation. Zeineddine was the only person home; a family pet dog also died.
The smoke alarms in the home were functional, Piringer said.
The area of origin is narrowed down to a basement wall, he said. An electrical outlet is the most likely source, however there are other potential ignition sources. Damage is estimated to be around $210,000.
Update – 1401 Kersey La, Along w/ Mr Zeineddine, a pet dog also died; Damage, ~$210K; Area of fire origin was narrowed down to the basement wall (multiple potential electrical ignition sources) an electrical outlet is most probable source of ignition. Smoke alarms were functional https://t.co/cOaoYYJJRg pic.twitter.com/AVDckcI4ur

— Pete Piringer (@mcfrsPIO) May 18, 2021