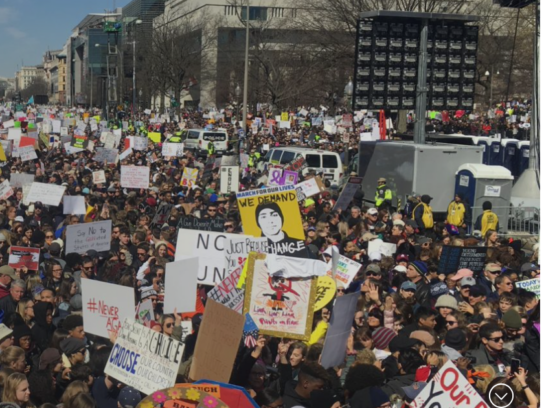 March for Our Lives regresará a Washington, D.C. el sábado 11 de junio para realizar una marcha en apoyo de la legislación de control de armas.
La organización, dirigida por jóvenes, se reunirá en el Monumento a Washington a partir de las 12 p.m. hasta las 2 p.m., según un permiso aprobado por el National Mall.
Además de Washington D.C., la entidad también organiza más de 450 marchas en al menos 45 estados y en todo el mundo, según March for Our Lives.
"Después de innumerables tiroteos masivos e instancias de violencia armada en nuestras comunidades, es hora de volver a las calles y marchar por nuestras vidas", escribió el sitio web.
This Saturday, June 11, people across the country are marching for all of our lives and safety against gun violence.

It's time to stop America's heartbreaking mass shootings. Enough.

Find a march near you:https://t.co/syNuE87i8y

— The Democrats (@TheDemocrats) June 9, 2022
Antes de la marcha de D.C., el representante de EE.UU. Jamie Raskin (D-8) y el delegado de Maryland Jared Solomon (D-18) se unirán para un mitin en el Wheaton Business District Pavilion a las 9:45 a. m., donde participaran otros líderes electos locales, organizaciones y sobrevivientes de tiroteos, y organizadores estudiantiles, según un tuit de Solomon.
Las marchas de este fin de semana se producen después de la reciente afluencia de tiroteos masivos en todo el país, incluidos los tiroteos mortales en Uvalde, Texas y Buffalo, Nueva York.
En respuesta a la violencia, los legisladores de la Cámara de Representantes de EE.UU. votaron el miércoles para aumentar la edad de compra de armas semiautomáticas de 18 a 21 años bajo la "Ley de Protección de Nuestros Niños".
El representante de Maryland Anthony G. Brown (D-04), patrocinador principal de parte de la ley, mostró su apoyo a la legislación.
"Estas armas no tienen cabida en nuestros vecindarios, y mucho menos en manos de un joven de 18 años", dijo Brown en un comunicado.
(Foto: cortesía de marchforourlives.com)