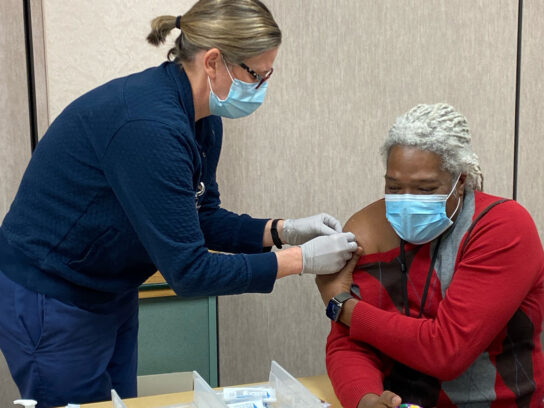 Maryland comenzará el lunes la Fase 1B de su plan de vacunación COVID-19, anunció el gobernador Larry Hogan en una conferencia de prensa, el jueves.
La fase 1B incluye:
Residentes mayores de 75 años

Residentes en hogares de ancianos y para personas con discapacidades

Maestros K-12 y personal de apoyo, proveedores de cuidado infantil
Hogan también anunció que la Fase 1C comenzará el próximo lunes 25 de enero. Incluirá a todos los residentes de 65 a 74 años.
We are activating Phase 1B to begin statewide on January 18 and Phase 1C on January 25 to enable Marylanders age 65+ to begin receiving vaccinations this month. Find a vaccination provider near you at https://t.co/MjHeoZnfuj. pic.twitter.com/aCVqRKv43V

— Governor Larry Hogan (@GovLarryHogan) January 15, 2021
El gobernador advirtió que el proceso de vacunación COVID-19 llevará tiempo.
"De cara al futuro, nuestro mayor factor limitante será el suministro", dijo Hogan en la conferencia del jueves. El gobernador indicó que hasta el jueves, se han distribuido 547,300 dosis en Maryland, que es el 99.6% de todas las dosis asignadas al estado por el gobierno federal. Según el plan de vacunación, solo la Fase 1 incluye a 1.5 millones de personas, dijo Hogan, que requieren dos dosis cada una. Entonces, el estado necesita 3 millones de dosis solo para pasar la Fase 1, dijo. "Esto llevará mucho tiempo, mucha paciencia y muchas más vacunas".
Maryland providers have now administered more than 220,700 doses of #COVID19 vaccines. 18,460 new doses have been reported in the past 24 hours, and 99.6% of the doses allocated to Maryland have been delivered directly to providers. pic.twitter.com/m5ANcP6a6k

— Governor Larry Hogan (@GovLarryHogan) January 15, 2021
La Fase 1A actual está abierta a trabajadores de la salud, residentes y personal de hogares de ancianos y personal de primera línea como personal de bomberos y rescate. Hogan dijo que la vigilancia y las vacunas son la solución a la crisis del coronavirus.