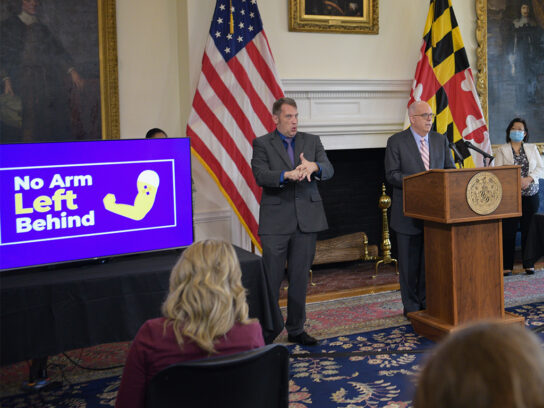 El gobernador de Maryland Larry Hogan anunció el miércoles que el estado está lanzando una iniciativa llamada "No Arm Left Behind" que tiene como objetivo garantizar que todos los habitantes del estado que quieran vacunarse contra COVID-19 puedan hacerlo.
La iniciativa es un esfuerzo para ayudar a las personas mayores, los estudiantes universitarios y los empleadores de todo el estado a tener acceso a la vacuna lo antes posible.
Hogan también anunció que el estado está ampliando sus líneas de vacunación sin cita previa y sus clínicas móviles de vacunación. También está ampliando su centro de llamadas de soporte de vacunas y lanzando un nuevo anuncio de servicio público sobre la seguridad de las vacunas que presenta a médicos de todo el estado.
Those of you who have not yet been vaccinated, please go get a vaccine as quickly as you can. Do it for yourself, do it for your family, do it for your friends, and do it so that all of us can put this global pandemic behind us.

— Governor Larry Hogan (@GovLarryHogan) April 21, 2021
Vacunar a personas mayores, estudiantes universitarios y trabajadores
Como parte de la iniciativa "No Arm Left Behind", el estado se centrará en los códigos postales para ayudar a las personas mayores a recibir la vacuna. Hogan dijo que las vacunas se han completado o programado en el 98% de todas las instalaciones de vivienda para personas mayores en el estado.
Para llegar a más personas mayores, el estado se comunicará directamente con más de 70,000 beneficiarios de Medicaid mayores de 50 años y les ayudará a programar una cita para recibir la vacuna si aún no lo han hecho. Hogan agregó que firmó una orden ejecutiva que permitiría reabrir los centros para personas mayores "a partir del 30 de abril".
We're launching a series of "No Arm Left Behind" initiatives to target seniors, college and university students, and the state's largest employers in an all-hands-on-deck effort to make sure that every Marylander who wants a vaccine can get one.

Details: https://t.co/0stmpvpFkw

— Governor Larry Hogan (@GovLarryHogan) April 21, 2021
El estado también se está asociando con la Comisión de Educación Superior de Maryland para brindar alcance directo a los estudiantes en los campus universitarios. Los sitios de vacunación masiva reservarán citas específicamente para estudiantes de educación superior. También habrá espacios disponibles para citas de vacunas para el "día universitario" en el sitio de Greenbelt FEMA, para varias escuelas.
El estado también se ha asociado con dos HBCU para proporcionar clínicas de vacunación en Morgan State University y Bowie State University.
Hogan anunció que la iniciativa crea una asociación entre el estado y los principales empleadores como Southwest Airlines, Exelon, Comcast y Amazon para crear clínicas de vacunación para trabajadores esenciales.
"Realmente estamos cerca de esa luz al final del túnel. Aquellos de ustedes que aún no han sido vacunados, por favor vayan a vacunarse lo más rápido que puedan. Hágalo usted mismo, hágalo por su familia, hágalo por sus amigos y hágalo para que todos podamos dejar atrás esta pandemia".