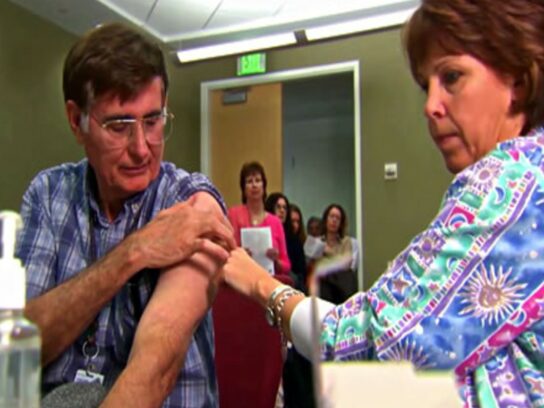 During this influenza season, there is almost no flu activity present in Maryland, Gov. Larry Hogan's Communications Director Mike Ricci said Friday morning.
In a tweet, Ricci displayed a chart comparing clinical laboratory test positivity rates for flu seasons from 2017 until now. Positivity rates during the 2020-2021 flu season have remained below 5% so far, while they spiked significantly above that several weeks before this one in previous years. Two weeks ago, ending on Feb. 6, 2021, the flu positivity rate in the state was 1.4%, Ricci reported. During the same week (week five) last flu season, the positivity rate was 34.3%. During the 2018-2019 season it was 30.5%, and during the 2017-2018 season it was 35.2%. Previous flu seasons peaked mid-late February, Ricci said.
Similar to the trend nationwide, there is almost no flu activity present in Maryland. pic.twitter.com/ue1Xqw3i35

— Michael Ricci (@riccimike) February 19, 2021
In response to a resident asking if COVID-19 measures suppressed usual flu spread, Ricci said yes, according to what epidemiologists have told the state.
"Flu is less contagious, so masking, distancing, hygiene all has a significant impact. Also, about 20 million more Americans got the flu shot this time around, which is great," the communications director said.
He said decreased flu activity in Maryland is similar to the nationwide trend. According to the Centers for Disease Control and Prevention (CDC), last week, ending on Feb. 13, 0.1% of respiratory specimens tested by clinical labs nationwide were positive for the flu. During the same week (week six) in 2020, it was 30.8%.
"Seasonal influenza activity in the United States remains lower than usual for this time of year," the CDC said in its weekly flu surveillance report.