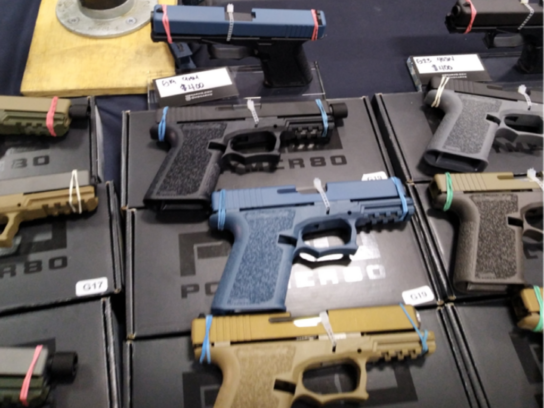 Maryland Democratic Senators Ben Cardin and Chris Van Hollen called on President Biden to take immediate action against the threat of unserialized firearms, known as "ghost guns," after a Magruder High School shooting incident in Derwood, on Jan. 21.
Steven Alston Jr., 17, has been charged with attempted second-degree murder, among other charges, after he shot another student last Friday. The 15 year-old victim underwent surgery on Monday and remains in critical condition as of Wednesday, according to MCPD Chief Marcus Jones. Alston is being held without bond.
"We must make it clear that violence and weapons have absolutely no place in our schools," said Interim Superintendent Dr. Monifa B. McKnight in a letter to the MCPS community.
The gun used in Friday's incident was comprised of unserialized parts delivered to the suspect's home, according to Jones. "Montgomery County State's Attorney John McCarthy reports that they've recovered four ghost guns from schools since starting to track them," Cardin and Van Hollen said in a press release.
Ghost gun seizures have increased as much as 300% in the last year, according to Baltimore City Police Commissioner Michael Harrison. "Of particular concern, nearly one quarter of the guns seized were from individuals that were too young to legally possess a gun – including a 14 year old," Cardin and Van Hollen said.
The senators urge the Biden administration to enact a ruling at the Bureau of Alcohol, Tobacco, and Firearms, and Explosives (ATF) that better regulate untraceable ghost guns. Furthermore, Van Hollen cosponsored the Untraceable Firearms Act, which prohibits and penalizes the manufacturing, sale, transfer, purchase, or receipt of ghost guns. Van Hollen and Cardin have both cosponsored the 3D Printed Gun Safety Act, which aims to restrict the distribution of digital blueprints for 3D printing untraceable guns.
The full letter sent to President Biden can be found here.
Additional MCPD and community engagement officers have been assigned to Magruder High School as an extra safety measure. Jones said the county is not planning to bring back school resource officers, but that officials continue to observe and determine potential modifications to the community engagement officers initiative at the high school level.
Related Article: