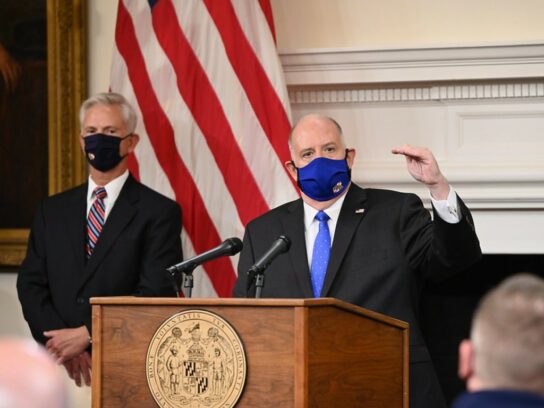 At around 5 p.m. Wednesday, Marylanders will receive a statewide emergency alert on their cell phones— only the second time the tool has been used by Gov. Larry Hogan's administration.
The governor's administration first used the alert on March 31 to inform residents about the state's new COVID-19 Stay at Home directive, according to a statement from Hogan's office. The Maryland Emergency Management Agency (MEMA) will use Wednesday's alert to remind residents about coronavirus measures in the state and notify them about law enforcement efforts.
During a press conference Monday, Hogan said he is deploying Maryland State Police (MSP) troopers throughout jurisdictions as "High Visibility Compliance Units." Beginning Wednesday, the troopers will work with local authorities to investigate COVID-19 violations and work on educating the community about how to prevent super-spreader events.
Hogan said Silver Spring will be one of the "popular downtown" and "mainstreet" areas in the state to be visited by the compliance units.
"The heightened visibility operation that we're launching" is about educating the public on safety, Hogan said. @mymcmedia

— Deirdre Byrne (@DeirdreByrneMCM) November 23, 2020
The emergency alert and MSP deployment come the day before Thanksgiving. The state health department recommends that Marylanders do not travel for the holiday and celebrate only with household members, based on CDC guidance. Earlier this month, Hogan shared that he canceled his Thanksgiving plans. He had hoped to have his daughters, son-in-laws and grandkids over at the Governor's Mansion.
"We made the determination to cancel all those plans, everybody is going to stay home with their immediate families and the First Lady and I will be having, hopefully, dinner together by ourselves," Hogan said on Nov. 12.
In Montgomery County, Health Officer Dr. Travis Gayles issued an order limiting gatherings to 10 people, which went into effect Tuesday at 5 p.m.