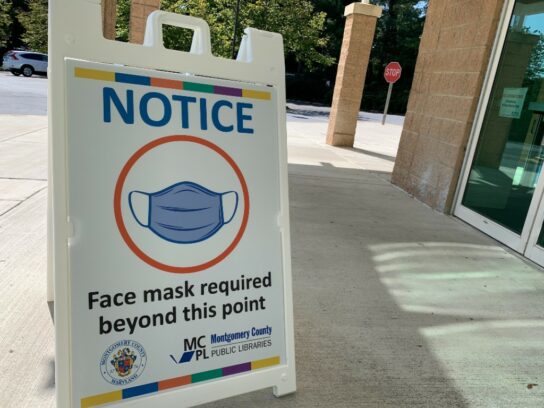 Montgomery County's indoor mask mandate will be reinstated if the jurisdiction reaches seven straight days of CDC-defined substantial coronavirus transmission, rather than one day as a previous regulation required.
The Montgomery County Council, sitting as the Board of Health, unanimously voted for the amended regulation Tuesday afternoon. If substantial COVID-19 transmission continues through Friday, Nov. 5, then the indoor mask mandate will be reinstated effective 12:01 a.m. Tuesday, Nov. 9, a council legislative attorney explained earlier. A few-days lag is meant to give businesses and establishments time to update their measures, leaders previously explained. If the county lands in moderate transmission before then, the seven-day countdown resets and the mask mandate will not be reinstated.
Councilmember Andrew Friedson introduced an amendment, which passed unanimously, to automatically terminate the regulation when 85% or more of the county's total population is fully vaccinated, per CDC data. Currently, that number is at 77.5%, according to the CDC's COVID-19 Data Tracker.
The county's indoor mask mandate was lifted at 12:01 a.m. last Thursday following seven consecutive days of moderate transmission, the threshold required to lift the mandate. However, the county officially re-entered substantial transmission as of Saturday, leaders said. The original regulation called for the mandate to be reinstated if the county re-entered substantial transmission for just one day.
Face coverings continue to be required in Montgomery County Public Schools (MCPS) and on public transportation. Businesses can choose to require indoor masking.
Council President Tom Hucker said after Pfizer's COVID-19 vaccine is approved for youth ages 5-11, it will still take several weeks for the majority of those residents to get vaccinated.
[hr]
Previous Post:
County Will Consider Amending Mask Mandate to Require Longer Period Before Reinstatement