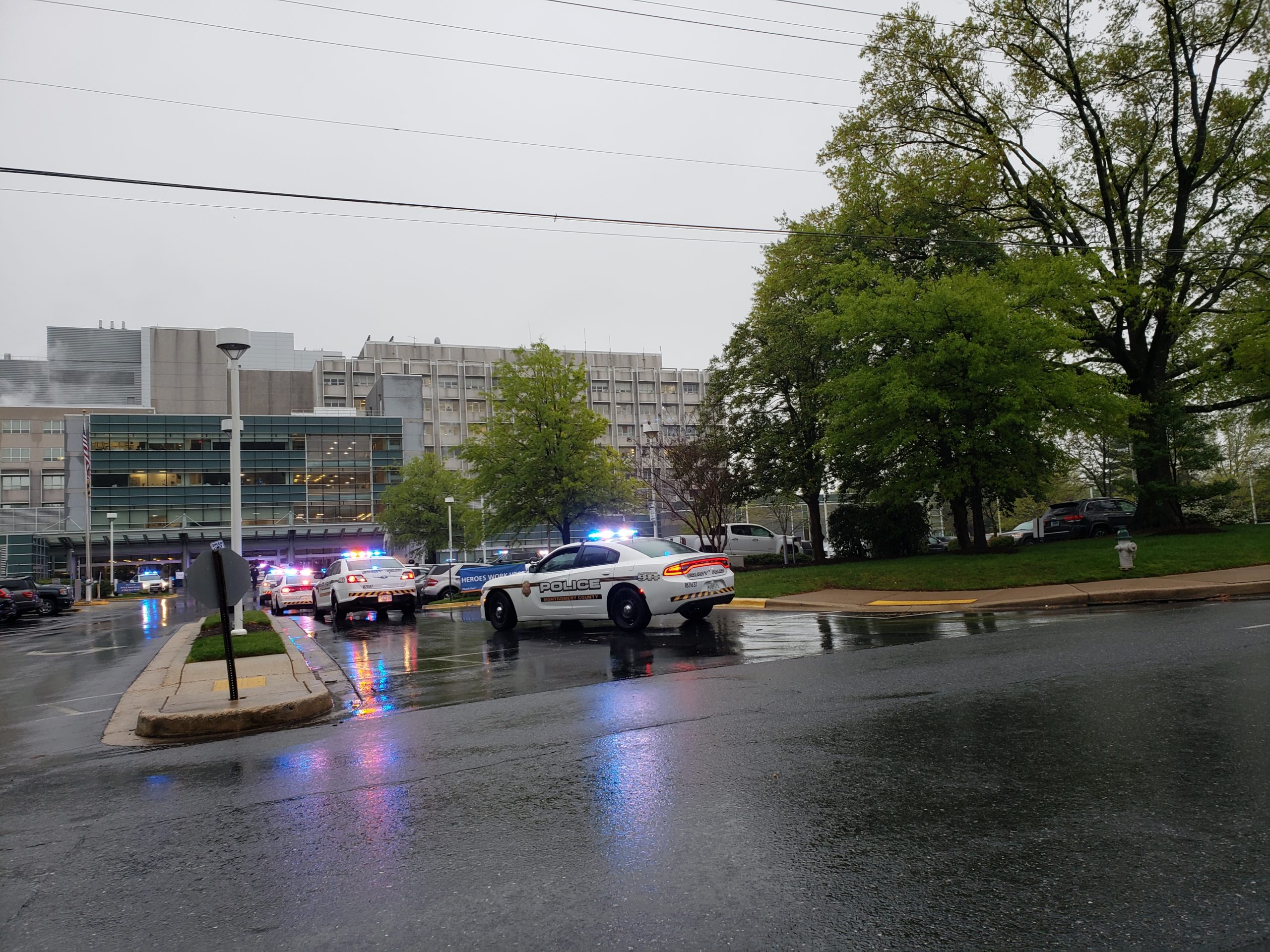 MCPD Stages Appreciation Drive-By at Holy Cross Hospital
As a light rain fell Friday morning, about 30 Montgomery County police cars with their lights flashing drove into the parking lot of Holy Cross Hospital in Silver Spring to show their gratitude for the healthcare workers who are on the frontline in helping those sickened by COVID-19.
The cruisers drove right up to the hospital's front entrance where a few dozen people, most of them dressed in hospital scrubs, were there to greet them at a little after 7:30 a.m. on April 24.
The tribute by county police appeared to be a mutual admiration event. Many of the healthcare workers cheered them on and some held signs expressing their appreciation and love for the police.
County police cars stage a congratulatory drive by at Holy Cross hospital this morning to honor the heroes working there @mymcmedia pic.twitter.com/uZYeWlSJ0i

— suzanne pollak (@SuzannePollak) April 24, 2020
The idea was "to celebrate the heroes" at the hospital on Forest Glen Road, according to MCPD.
"First responders, including our care teams, police, and fire and rescue, are on the front lines supporting individuals needing care from the effects of COVID-19," said Louis A. Damiano, MD, hospital president.
"I am so proud of all of the healthcare heroes at Holy Cross Hospital. Our clinical care teams and support services teams are strong in their service and care for each individual we serve. We are grateful for this recognition from Montgomery County Police, and we recognize and celebrate their heroic efforts in return."
This morning, MCP ofcs led a parade of approx 30 cruisers past @holycrosshealth to show their appreciation & support for frontline healthcare workers who continue to work tirelessly combating the #COVID19 outbreak.
TY to the doctors, nurses, CNAs, and all healthcare workers! pic.twitter.com/6C3ILZSQ7A

— Montgomery County Department of Police (@mcpnews) April 24, 2020