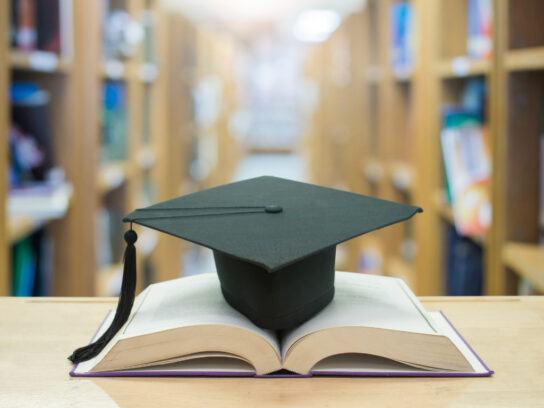 Montgomery County Public Schools (MCPS) is recommending that senior graduation ceremonies be held outdoors at students' home high school stadiums, officials said during a school board meeting Tuesday.
MCPS considered three plans for high school graduation ceremonies in 2021, explained James Koutsos, Area Associate Superintendent of Teaching, Learning and Schools. Plan A is a traditional, in-person graduation ceremony similar to years prior to 2020, Plan B is an in-person, outdoor graduation ceremony at home high schools and Plan C is a virtual graduation, in the spirit of the Class of 2020's ceremony.
Superintendent Dr. Jack Smith said MCPS is headed for Plan B.
Koutsos said the recommendation to move to Plan B is based on input from stakeholders, COVID-19 gathering limits and the amount of time/effort required for graduation planning.
"We would be working with each of our schools to ensure that they have the necessary and equitable resources available to them as they plan for this Plan B contingency," he said. Gaithersburg High School was floated as an option, if other schools need it — if there is a challenge at that school, Koutsos said.
The school board voted unanimously Tuesday to approve 2021-2022 academic calendars for traditional and innovative school years. The traditional school year will begin Aug. 30 and ends June 15, 2022. Associate Superintendent of Operations Essie McGuire said overall feedback leaned toward the Aug. 30 start date. In an online survey that received 7,567 responses from students, parents, employees and community members, 77% of respondents preferred the Aug. 30 start date while 22% prefer the Sept. 8 start date, an MCPS presentation showed.
McGuire shared community concerns that the Sept. 8 start-date scenario falls on the second day of Rosh Hashanah, the Jewish New Year holiday.
"And certainly we understand that concern for our community," she said. The Jewish Community Relations Council of Greater Washington, based in North Bethesda, thanked the school board for its vote.
Thank you @MCPS board of ed for your decision tonight to select a calendar that doesn't start on the Jewish New Year! We appreciate your understanding of the difficulties that would ensue for teachers & students if the 1stday of school coincided with the 2nd day of Rosh Hashanah.

— JCRC of Greater DC (@JCRCgw) March 24, 2021
The innovative school year calendar will begin July 12 and end its summer session Aug. 20.
Students will return in alignment with the traditional calendar on Aug. 30 and the last day of school will be June 13, 2022. MCPS has two innovative schools: Arcola and Roscoe Nix Elementary Schools in Silver Spring. The schools follow an extended school year calendar— 210 instructional days.