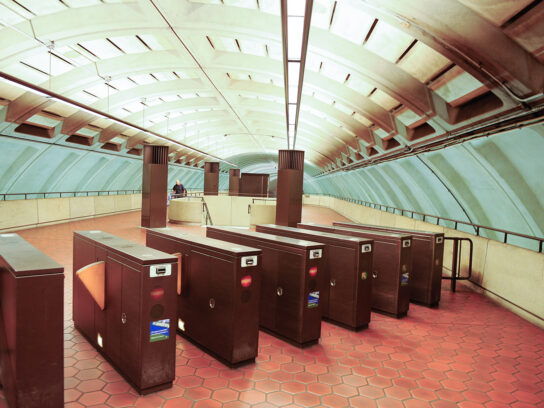 Washington Metropolitan Area Transit Authority released its multi-phased COVID-19 recovery plan Monday, indicating it may not return to its normal operations until Spring 2021.
On Saturday, Paul Wiedefeld, general manager and CEO of WMATA, penned an op-ed in the Washington Post, saying, "Until a vaccine is available, our customer experience can't be what it was before the pandemic."
Metro's Pandemic Response Plan has been activated since Jan. 29 and its currently in stage three of the plan. As Metro moves into its recovery plan it will go through the following four phases:
Stabilization: As stay-at-home orders are lifted, Metro will ask customers only to use its services for essential purposes, requiring masks.
Managed re-entry: Metro estimates this phase to start between August to October 2020. There will be double capacity on rail from the first phase. Metro rail stations closed in the first phase will be reopened. All Metrobus routes will operate but there may be service limitations like reduced intervals between departures.
Recovery: Metro says this phase will start when a vaccine or treatment for the coronavirus is made "widely available." Metro estimates this will start in Spring 2021 and during this phase, WMATA's hours and operations will return to how they were before the pandemic.
Resilience: This is the post-pandemic phase, in which WMATA will analyze best practices to maintain resiliency for future pandemics.
"Our recovery plan, first and foremost, considers how to protect employees and customers," Wiedefeld said in The Post.
Wiedefeld said "ridership has plummeted to historic lows" and WMATA is currently only using  "about half of [its] front-line workforce."
An op-ed from #Metro's general manager and CEO Paul Wiedefeld: How Metro plans to gradually return to full service
https://t.co/H5rJF2Ozw4

— Washington Post Opinions (@PostOpinions) May 9, 2020
"We have 81 confirmed covid-19 cases among our 12,000-member workforce, with two colleagues hospitalized. Twenty-six have already recovered," Wiedefeld said.
WMATA's recovery plan has been developed to comply with guidelines from the Center for Disease Control and Prevention, as well as surrounding leaders in the Greater Metro area like Gov. Larry Hogan (R-Md.), Gov. Ralph Northam (D-VA), and D.C. Mayor Muriel Bowser (D).
Over the summer, during the stabalization period, Metro will undergo repair construction projects, which will shut down several stations for weeks at a time.
"The first track work shutdown is currently targeted for June 7-13 at L'Enfant Plaza, Waterfront, and Navy Yard stations," a WMATA statement says.
All track work will be announced with advance notice for riders.