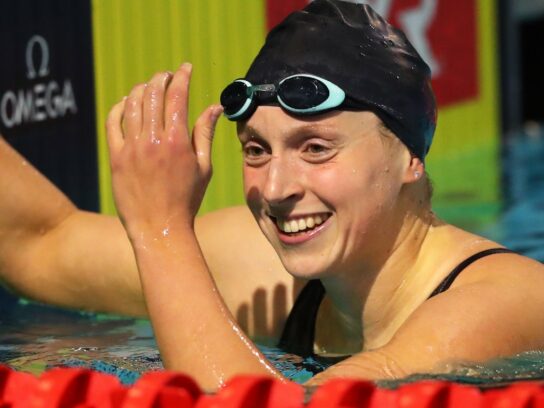 The Tokyo 2020 Olympic Games produced many memorable moments and athletes with strong ties to Montgomery County were involved in many. Team USA led all nations with 113 medals and 39 gold medals.
At the top of the list was swimmer Katie Ledecky, who bounced back from a rare dose of adversity to cement her status as the best female long-distance freestyler ever. Ledecky won two gold medals and two silvers to bring her career total to 10 medals.
Recapping Montgomery County's athletes performances in Tokyo:
Katie Ledecky grew up in Bethesda and is a member of the Stone Ridge School Class of 2015. Every four years (or five, in the case of these rescheduled games), alumni from the Bethesda private school can gather around their televisions and watch Ledecky thrill everyone. This year was a bit different, as Ledecky squared off against Australia's Ariarne Titmus in the freestyle races. Titmus won the first two events, with Ledecky taking silver in the 400-meter freestyle and finishing fifth in the 200 – the first time in her career that she qualified for an individual event final and failed to medal in an international event. But Ledecky bounced back with gold medals in the 800 and 1500 and swam an incredible anchor leg to lift the U.S. to the silver medal in the 4×200 freestyle relay.
Thank you, Tokyo, and thank you all for the tremendous support this week and over the years! I could hear you all! 🥳

Bringing 2 Golds, 2 Silvers, and countless memories back to the USA❤️🇺🇸 pic.twitter.com/XpXx7oDELQ

— Katie Ledecky (@katieledecky) July 31, 2021
Kyle Snyder, a star wrestler at Good Counsel High School in Olney, was part of the most anticipated wrestling match of the Games as he met Russian Abdulrashid Sadulaev in the freestyle 97-kilogram final. Both wrestlers had won gold at the Rio de Janeiro 2016 Olympic Games; they had split two previous meetings, both in the world championship finals; and they each were dominant in their first three matches in Tokyo, allowing just a single takedown.
But Snyder was unable to pull out a second consecutive gold medal, dropping a 6-3 result and settling for a silver medal.
Snyder, Hildebrand win wrestling medals for U.S. https://t.co/UqrziIzq3z

Congrats on the silver medal Kyle Snyder. You represented the USA and @OLGCHS extremely well again. Falcon Nation is proud of you as always. #traditionliveshere#foreverafalcon

— GC Athletics (@GCFalconsAD) August 7, 2021
Kevin Durant, who is from Prince George's County but graduated from Montrose Christian School in Rockville in 2006, became Team USA's all-time leading scorer in Olympic men's basketball play and led the U.S. to its fourth consecutive gold medal. Durant was clutch once again in the gold medal game, scoring 29 points to lead the Americans to an 87-82 victory over France. Durant had scored 30 points in the previous two gold medal games.
Kevin Durant is the greatest US men's hoops player ever https://t.co/dpy6g4zJhQ pic.twitter.com/saUHubBXRl

— New York Post (@nypost) August 8, 2021
Helen Maroulis, who grew up in Rockville and attended Magruder High School, became the first U.S. woman to win multiple medals in wrestling. Maroulis took the bronze after dropping a tightly-contested 2-1 result in the semifinals to Japan's Risako Kawai in a meeting of 2016 Olympic champions.
I'm so proud of @helen_maroulis She's certified. Her battle over the last five years just to get back here tells you all you need to know about her. She's got work still to do, but she's a living testament that the color of your medal doesn't determine the size of your heart.❤️🇺🇸

— Jordan Burroughs (@alliseeisgold) August 4, 2021
Triple jumper Thea Lafond, a graduate of John F. Kennedy High School in Silver Spring, teaches at her alma mater. She will have a quite a story to share with her students. Competing for her native Dominica, Lafond set a national record in the preliminary round to become the first Dominica athlete ever to advance to an Olympic final. In the final, Lafond posted a jump that would have claimed the silver medal only to have a red flag raised for a foul that eliminated her from the competition.
Proud of Terp, Thea LaFond, for representing Dominica in the Olympic Finals of the Triple Jump. En route she set a National Record for her country #Olympian #Terps pic.twitter.com/dy63IYeU1R

— Andrew Valmon, OLY (@AValmon) August 1, 2021
Swimmer Phoebe Bacon, who grew up in Chevy Chase and is a member of the Stone Ridge School of 2020, was in medal contention throughout the race but was outtouched at the final wall and finished fifth in the women's 200-meter backstroke.
Swimmer Phoebe Bacon (@BaconSwims1) of Chevy Chase arrived at @Dulles_Airport on Monday night and was greeted by a cheering group of family and friends. https://t.co/YGkdvSDDa3

— MyMCMedia (@mymcmedia) August 3, 2021
Andrew Wilson, who grew up in Bethesda, became the first NCAA Division III swimmer to qualify for the U.S. Olympic Team and won a gold medal as part of the men's 4×100 medley relay team. Wilson swam the preliminary heat, helping the team qualify for the final. Wilson also participated in the 100- and 200-meter men's breaststroke events, qualifying for the 100 finals and finishing sixth. He also swam a preliminary heat in the 4×100 mixed medley relay (which advanced to the finals and finished seventh).
Congrats again to our own Andrew Wilson 17C (@awil5504) for winning a Gold medal at the Tokyo Olympics in the men's 4x100m medley relay!! #FlyHigher #Tokyo2020

📷: USASwimming IG pic.twitter.com/sTSs2qahgu

— Emory Athletics (@EmoryAthletics) August 2, 2021
Good Counsel High School graduate Uche Eke, who grew up in Brookeville, became the first gymnast to represent Nigeria in the Olympics. Eke competed in the men's all-around competition, though he did not qualify for the finals.
And that's a wrap! Looking at these rings got me thinking about the future 🤔😜 #olympics #gymnastics @ Tokyo Japan https://t.co/22KMd00SgV

— Uche Eke (@Uchemantellem) July 28, 2021
Related posts: