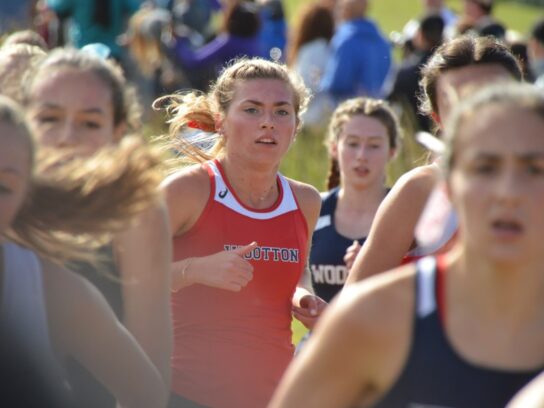 Senior Maya Gottesman has enjoyed a strong fall on the cross country course. She has been Wootton High's top runner five times in six meets and, most importantly says Coach Kellie Redmond, has been a leader helping the Patriots to the state's No. 1 ranking as the postseason looms.
This past weekend, competing in the Maryland XC Invitational at Shawan Downs in Cockeysville outside Baltimore, Gottesman took 10th place, leading a pack of Wootton runners as the Patriots won the team title in the elite Black & Gold Varsity Division.
For her performance, Gottesman was named the Montgomery County Sports Hall of Fame High School Athlete of the Week.
Each week throughout the school year, the Montgomery County Sports Hall of Fame is partnering with Montgomery Community Media to honor an Athlete of the Week from the county's more than 40 public and private high schools.
"She has had a great season this whole year," Redmond said. "Our girls team is undefeated in everything – invitationals and regular meets, winning our division. Maya has set the standard and been a great team player."
Wootton has never won a team state championship in girls cross country; its best result was finishing second at the Maryland 4A championships in 2016. (Jessie Rubin won the Maryland 4A individual title in 2009.) But this could be the year for the Patriots. With Gottesman leading the way, their top runners have run together in meets throughout the season. At the Maryland XC Invitational, Charlotte Chang, Victoria Ketzler and Meilani Rogers were the next three finishers after Gottesman, crossing the finish line within 13 seconds of Gottesman. (Richard Montgomery's Grace Finnegan won the race.)
"You have to run well as a team if you want to do well as a team," said Redmond, whose team will next compete in the county championships on Oct. 22. "You can't have huge gaps between runners. We try to keep our pack together and she's a big part of that, always encouraging her teammates to get up with her and stay with her. She's been a strong leader.
"She demands from her teammates and she has expectations for them and that has made us better."
In addition to running cross country and outdoor track, Gottesman broadcasts Wootton's home football games and plans to do a full slate of basketball games this winter. She also is a member of the Montgomery County Student-Athlete Leadership Council, which meets monthly to discuss issues in athletics throughout the county.
"You just wish you had 100 of her," Redmond said. "She is someone that you can completely count on."
Photo by Jim Eppard