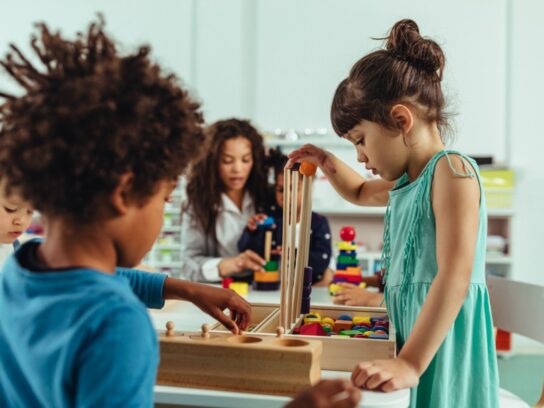 El Condado de Montgomery está aceptando solicitudes para su fondo de ayuda de emergencia de $10 millones a partir del lunes a las 3 p.m. El Programa de Recuperación de Cuidado Infantil está destinado a compensar la reapertura de gastos y pérdidas relacionadas con COVID-19.
A principios de junio, el Concejo del Condado aprobó el dinero para el fondo de ayuda, asignando $6.5 millones a centros de cuidado infantil con licencia y $3.5 millones para apoyar hogares de cuidado infantil familiar que estén registrados. Los programas pueden recibir hasta $ 75,000 en fondos, y las organizaciones de cuidado infantil que tienen al menos cuatro locaciones pueden recibir hasta $ 250,000.
🆕Beginning next week, child care providers in #MoCo can apply for funding to help offset financial losses caused by #COVID19 and to assist with reopening expenses. https://t.co/YdCntXJz1u. The online application portal opens at 3 p.m. Monday, June 29. ➡https://t.co/hXv1Urp4Gb. pic.twitter.com/nMRHihkrkq

— Montgomery County MD (@MontgomeryCoMD) June 26, 2020
"Antes de que llegara COVID, ya sabíamos que teníamos una escasez de cuidado infantil accesible y de calidad, y realmente están luchando ahora. Sabemos que debemos ayudar a nuestros proveedores para que puedan continuar brindando la atención y educación infantil de calidad que es tan importante para el éxito de nuestros hijos", dijo el ejecutivo del condado Marc Elrich en el momento que el Concejo aprobó inicialmente el fondo.
El condado está priorizando el acceso a programas que sirven a familias de bajos ingresos y niños con necesidades especiales. Los programas también necesitan un plan para reabrir a fines de agosto para poder ser elegible para las subvenciones.
Hay más de 1,300 programas de cuidado infantil con licencia en el Condado de Montgomery. A medida que el Condado continúa con su reapertura gradual, los proveedores de cuidado infantil deberán desarrollar planes para mantener el distanciamiento social en sus centros de cuidado.
Además de la asistencia financiera, el condado está ofreciendo orientaciones de seminarios a través de internet, asistencia técnica y asistencia personalizada para completar la solicitud a través de la organización "Nonprofit Montgomery" y el Centro de negocios para mujeres de Maryland.