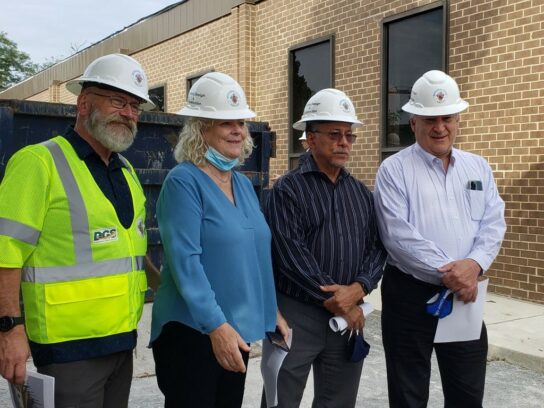 The Nebel Street Homeless Shelter that was set to open in the beginning of January will not be completed for several more weeks so that a street utility project can be finished.
The delay also sets back the return of the Long Branch Community Recreation Center to the community, which now is not expected until this spring. That center has been the temporary home since March 2020 for homeless men, enabling the county to have enough room for those who need emergency shelter and still allow for social distancing due to the pandemic.
"The delayed opening of the Nebel St shelter not only impacts the homeless people who need clean and safe shelter, but it also impacts the Long Branch community who's community center was turned into "temporary" shelter in March 2020. The county reopened all of the community centers in June 2021, but our Long Branch community center and the Coffield community center remained as shelters, further impacting our community. There are no other recreation facilities in Long Branch. This has created a void and greatly impacted youth, families, and seniors in our community who used the community center spaces and programming. It's critical that the county do everything to minimize further delays," Long Branch community member Annie Tulkin wrote in an email to My MCM.
The new shelter on Nebel Street in North Bethesda needs the utility project to be completed before it opens so it has access to gas and water main lines, according to the county.
The 30,000 square-foot building previously was a commercial office. When opened, it will have 200 beds and living areas.
The Department of Government Services purchased a two-story building at 11600 Nebel Street to provide room for sleeping, meals and medical and case management services. It will be used year-round and enable residents to have a small place of their own until they can find permanent housing.
DGS Director David Dise called the delay "unfortunate," and explained, "We are sourcing other suppliers and are in regular contact with senior management of Pepco, Washington Gas and WSSC, all of whom are expediting the street utility work. While it is good news there is permanent place for the shelter and a project design that will more effectively serve those in need of shelter, the project delay impacts those who reside in the temporary shelter, the Recreation Department and community members who have waited for their community recreation center and senior center to be reopened."
"The project delay impacts our spring programming," said Recreation Department Director Robin Riley in a news release. "We are currently doing an extensive job recruitment search to find a community recreation center director who can effectively lead the programming at the diverse, well-loved and much needed Long Branch Community Recreation Center."
Reopening the community center following its use as a homeless shelter for about two years is expected to cost $8.1 million.
Currently, the county mostly houses its homeless in temporary shelters, some that are only available during very cold or very hot weather. Others are housed in area hotels and still others are moved into permanent supportive housing.
Demand for the numerous temporary shelters arose about two years ago when the county had to shut its facility on East Gude Drive in Rockville following mysterious vibrations from a nearby landfill.
Related Post
Permanent Housing for County's Homeless Set to Open in January