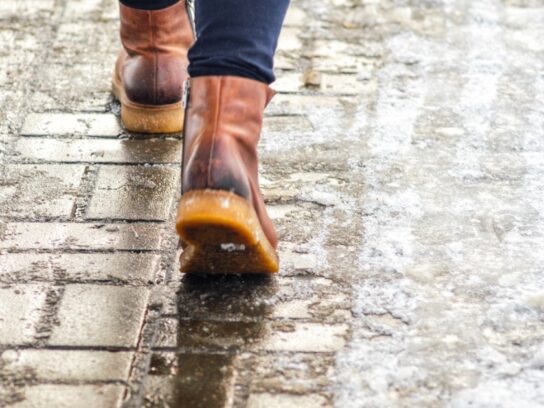 The Montgomery County Council unanimously passed the Shovel Our Sidewalks Act on Tuesday requiring snow to be cleared from 40 miles of sidewalks in transit-dependent and low income communities.  
The legislation sponsored by Council Vice President Evan Glass, will benefit residents who use sidewalks on Equity Emphasis Areas. These small geographic areas are frequented by front-line essential workers who oftentimes "have to walk along dangerous, snow-covered sidewalks to get to their bus stop – while so many others are able to get into their cars or even work from home," according to the county. This legislation also ensures that sidewalks are cleared from wheelchair uses and parents with strollers.  
"It's no coincidence that our lower income communities also have higher rates of pedestrians and transit ridership, which requires residents to navigate dangerous snow covered sidewalks while walking to their bus stop," Glass said. "By taking a more active role in sidewalk snow removal, we will increase pedestrian safety and be one step closer to achieving our Vision Zero goal of eliminating traffic fatalities by 2030." 
In the first few months of the year, the county experienced winter weather that impacted pedestrians walking and accessing bus stops. Glass recently hosted a Vision Zero rally where he advocated for safer streets. He also noted that last year there were 10 pedestrian deaths and 480 non-fatal incidents in the county.