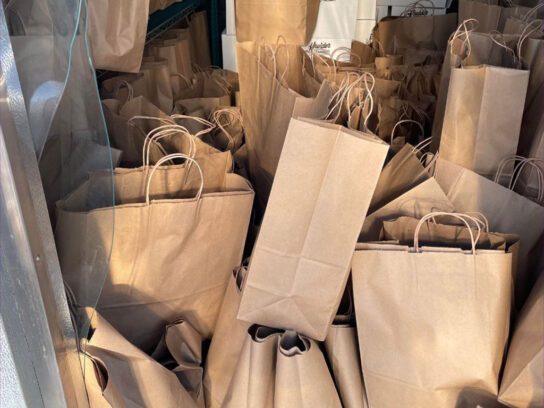 Upcounty Hub ha llevado a cabo numerosos eventos en febrero para distribuir alimentos y otros artículos esenciales.
Se planean más eventos para el resto del mes los martes, miércoles y viernes en horarios y lugares específicos.
Here is our distribution schedule for the month of February! pic.twitter.com/oeNPE0Nh3D

— The Upcounty Hub (@UpCountyHub) January 30, 2022
El coordinador sénior del programa, Marko Rivera-Oven, y su madre comenzaron Upcounty Hub a fines de marzo de 2020 para ayudar a 23 familias en el parque de casas rodantes de Germantown. A partir de ahí, se expandieron para crear kits COVID equipados con termómetros, papel higiénico y vajillas de plástico.
Desde entonces, Upcounty Hub se ha convertido en un modelo para otros siete centros en el condado.
"Estar en la comunidad hablando con estas familias inmigrantes, y ver las barreras que ven todos los días realmente te abre los ojos", dijo Rivera-Oven a MyMCM. "Creo que la pandemia realmente abrió los ojos de muchas personas, que ha habido una necesidad de inseguridad alimentaria, pero también ha habido una barrera entre los recursos del condado y cómo acceder a estas personas que lo necesitan".
Rivera-Oven dijo que Upcounty Hub a veces atiende a 500 personas en aproximadamente una hora.
"Creo que es tan importante, tan crucial tener esa conexión y tener esa confianza", dijo Rivera-Oven. "Especialmente al principio, muchas personas simplemente estaban muy avergonzadas o simplemente estaban muy incómodas por ir a estas distribuciones".