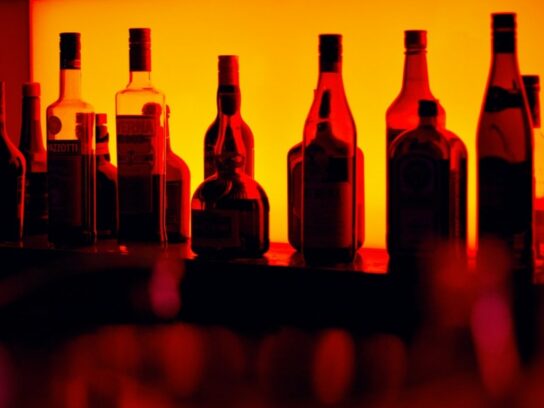 Beginning Wednesday at noon, Montgomery County restaurants and bars will not be allowed to sell alcohol for on-premise consumption after 10 p.m.
Under County Executive Marc Elrich's executive order amending his Phase 2 reopening order, food service establishments can still sell alcohol for carry-out after 10 p.m. The order includes other changes like eliminating the difference between youth and adult sports and requiring malls to remove furniture that encourages congregation. 
The council approved the executive order at a meeting Tuesday, and during the session restaurant owners expressed their disapproval of the alcohol restriction. 
"No one's going to come at 10 [p.m.] to just sit there and eat some food, it's just not going to happen," said John Sahakian, co-owner of Quincy's South Bar & Grille in Rockville. He said the restriction would seriously hurt restaurants that are starting to recover from major COVID-19 losses. 
"We're just starting to get our legs, sports is finally back in some regard and for us all of a sudden to get our legs knocked out again is really tough," Sahakian said. He said he thinks he might lose employees because they won't get their usual tip money and will go to unemployment. 
"I think there's a compromise… either through enforcement or maybe cutting the hours back a little bit, but not 10 p.m. I think at the end of the day that's really just going to be a dagger for a lot of restaurants."
The Council approved Executive Order #87-20, COVID-19 Local Order, which amends the previous public health order dated June 19, 2020. View the full Council staff report, which includes the public health order at https://t.co/rpBfI1L4Dt . pic.twitter.com/sXl3GT2W90

— Montgomery Council (@MoCoCouncilMD) August 4, 2020
Justine Mwebaza, a Silver Spring resident who owns a restaurant in Wheaton, shared similar thoughts. 
"If we cannot serve alcohol after 10 then there will be no reason for anyone to come to my restaurant… they're not just coming out to eat," she said. She said she spent a lot of money on outdoor furniture to make sure customers were seated safely and has been complying with all public health guidelines. 
"That's as good as telling us to go back to a time when we shutdown for good, when we were only doing carryout. And at that time my business was barely making 5% of what I was making before the shutdown," Mwebaza said. 
Councilmembers Will Jawando and Tom Hucker understood and shared some of those concerns. 
"10 p.m. to midnight could make a big difference," Jawando said. "I do think this is a significant concern, but I understand why we're taking the action."
"I think that seems overly broad to me when so many of our small businesses are taking every effort they can to minimize transmission and doing everything we've told them to do," Hucker said. Like Sahakian, Hucker said he thinks there are better ways to keep people and restaurants safe. 
"I'm less comfortable with blanket rules like that and more comfortable with enhanced targeted enforcement and higher penalties," he said. 
The issue of COVID-19 compliance and restrictions in regard to food service establishments is not a new one. During a council meeting July 7, Montgomery County Office of Emergency Management and Homeland Security Director Dr. Earl Stoddard said restaurants at night are of particular concern when it comes to COVID-19 compliance. He said the problem is greater during the after-dinner period when restaurants operate more like traditional bars. 
At a July 15 press conference, Gov. Larry Hogan said if non-compliance with COVID-19 guidelines continues in bars and restaurants, Maryland may have to reconsider the reopenings it's allowed so far. 
"At this point we're trying to crack down on the bad apples without killing the entire industry and all those folks that work there and causing more unemployment," Hogan said.  
"But look, if this gets out of control, if people continue to not follow the rules, we'll have to take another look."
On July 14 Hogan sent a letter to county leaders urging them to enforce COVID-19 restrictions. 
"The vast majority of bars and restaurants in our state are in compliance, but some are flagrantly violating the law and endangering public health," the letter reads. "You have the responsibility to enforce these laws."
Today I pressed county leaders to enforce public health requirements in bars and restaurants. We cannot allow a small segment of willful violators to squander our collective efforts and jeopardize our state's recovery. Read the letter: https://t.co/UIjTX2alQ5

— Governor Larry Hogan (@GovLarryHogan) July 14, 2020