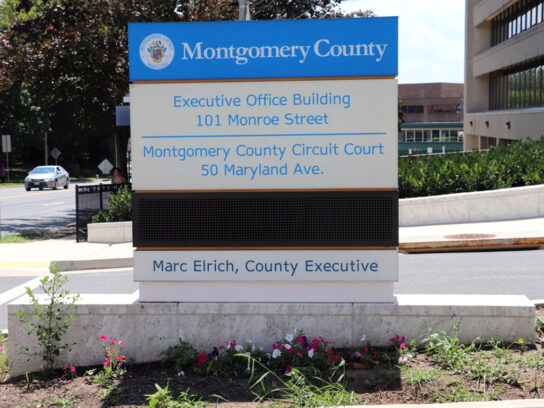 Parents who send their children to non-public schools are holding two rallies Wednesday evening to protest what they are calling "power grabs by MoCo executives."
The rallies are planned for 5 p.m. and 7 p.m. at the plaza behind the Montgomery County Executive Office Building, 101 Monroe Street, Rockville. There will be two rallies so a large crowd won't gather at either one and to accommodate people's schedules, explained Bob Carey, a Bethesda resident and father of two sons, in a news release.
The Open Montgomery County, MD Private Schools Facebook group, which has almost 4,000 members, is organizing the event.
County Health Officer Travis Gayles announced earlier this week that private and religious schools could only be taught virtually until at least Oct. 1. Soon after that, Gov. Larry Hogan issued an executive order allowing the non-public schools to hold classes in their schools.
Kevin O'Rouke, a cofounder of the Facebook group and parent of St. Mary of Nazareth School in Darnestown graduates, called Hogan's order "a great victory for Montgomery County parents' rights and for accountable government." However, O'Rourke noted, "The recent comments by Montgomery County Executive [Marc] Ehrlich and Chief Health Officer Dr. [Travis] Gayles, along with the troubling characterizations of our efforts at today's County Council meeting, indicate the County government is not done trying to interfere with the county's religious and private schools thoughtful and safe plans to open in the fall."
O'Rouke added, "We must continue to put pressure on government officials and remain vigilant to these continued abuses of power during this pandemic."
Sonia Vigilante, a parent at St. Raphael School in Rockville, noted, "Our schools have gone to incredible lengths to comply with State and CDC guidelines for in-person education, many offering an option for 100% distance learning as well."
"Parents and local non-public schools are capable of complying with applicable guidelines and executing them in a way that both serves the public interest and the interests of their children," she wrote in the news release.
Parents, organizers and school officials will speak at the rally.