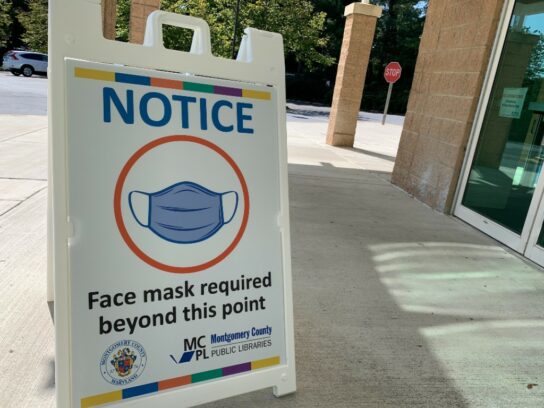 As Montgomery County approaches the trigger to terminate its indoor mask mandate, officials expect to recommend extending the requirement due to worsening COVID-19 metrics, they said during a virtual media briefing Wednesday. 
The county's current indoor mask regulation will terminate when 85% or more of the population is fully vaccinated per CDC data. Currently, that number is at 82.9%, but officials believe circumstances have shifted.  
"Removing face coverings or masks in the middle of a rapidly escalating number of cases and hospitalizations just doesn't make a whole lot of sense," Assistant Chief Administrative Officer Dr. Earl Stoddard said. He said the Omicron variant was not a consideration when the council approved the regulation around the 85% vaccination rate, and the number may no longer be relevant.
Stoddard said officials will brief the county council, which sits as the Board of Health, in early January before the jurisdiction reaches the 85% mark. Councilmembers will be provided updates about current COVID-19 metrics like case rate and hospitalizations, at the request of Acting Health Officer Dr. James Bridgers. 
"At that point, I would expect that our recommendation would largely be that they should not be removing a mask mandate in the middle of a case rate in the thousands and a rapidly escalating number of hospitalizations," Stoddard said. Officials will likely recommend re-evaluating the mandate along a similar timeline as Washington, D.C., which has an indoor mask requirement in place until Jan. 31, 2022.
County Executive Marc Elrich responded to potential criticism about moving goalposts. 
"How many times has COVID changed? This is not a case of moving goalposts, this is as if COVID just puts a new team on the field and says we're playing a different game now," Elrich said. "So, the first virus was not Delta. And Delta is not Omicron."
Last week, officials shared that active COVID-19 outbreaks in Maryland jumped 29%. As of Tuesday, 205 people in the county were hospitalized due to coronavirus, according to county Health and Human Services Public Health Emergency Preparedness Manager Sean O'Donnell. About two weeks ago on Dec. 7, 130 patients were hospitalized.
On Wednesday, three hospitals in the county were on red alert, meaning they had no electrocardiogram monitored beds available, which includes all inpatient critical areas and telemetry beds, according to CHATS, a county and hospital alert tracking system. 
Also during Wednesday's briefing, Stoddard said officials will propose a COVID-19 vaccine passport to the council for consideration.