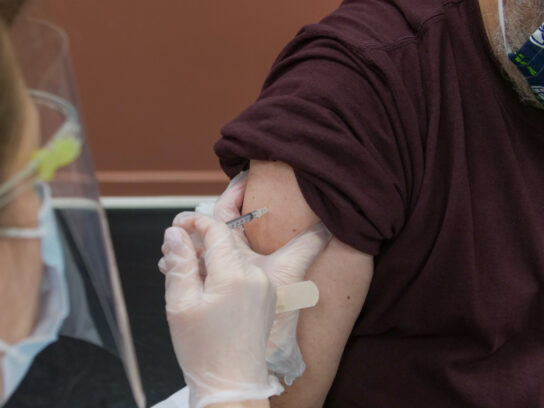 In a press release Wednesday, Pfizer, Inc. and BioNTech SE announced a series of laboratory studies resulted in vaccine effectiveness against the highly transmissible Omicron variant after three doses.
The samples, taken one month after the subjects received a third vaccine dose, showed the omicron variant was able to evade some of the neutralization titers, but that most of the epitopes targeted by vaccine-induced T-cells remained unaffected.
"Although two doses of the vaccine may still offer protection against severe disease caused by the Omicron strain, it's clear from these preliminary data that protection is improved with a third dose of our vaccine," said Albert Bourla, Chairman and Chief Executive Officer of Pfizer, Inc. "Ensuring as many people as possible are fully vaccinated with the first two dose series and a booster remains the best course of action to prevent the spread of COVID-19."
The Omicron variant was detected in three cases in the Baltimore metropolitan area on Dec. 3. Governor Larry Hogan urged Marylanders to get vaccinated by Dec. 11 in order to be protected by Christmas, as the vaccine takes two weeks after injection to become effective.
"We urge Marylanders to continue taking precautions to keep themselves and their loved ones safe," said Gov. Hogan in a statement last week. "Getting a vaccine or a booster shot is the single most important thing that you can do to protect yourself and those around you."
The CDC recommends those 18 years old and up get a booster shot, either a third dose of Pfizer or Moderna at least 6 months after the second dose, or a booster of Pfizer or Moderna 2 months after the Johnson & Johnson single dose vaccine.
Development on an Omicron-specific vaccine began Nov. 25, a day after South African scientists reported the variant's discovery. Pending approval, Pfizer and BioNTech say the first batches will ready for production and delivery in 100 days, and are "highly confident" the variant specific vaccine will be available by March 2022.