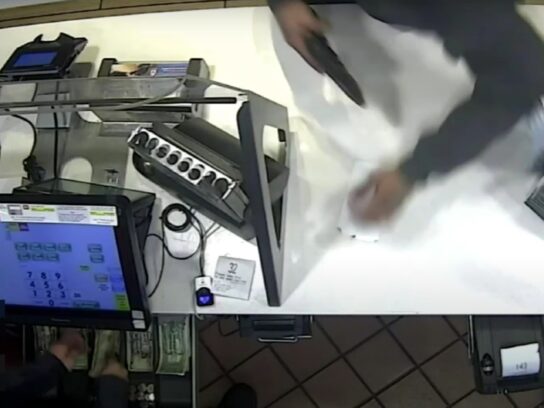 Montgomery County Police Department (MCPD) detectives investigate a March 1 armed robbery of a McDonald's restaurant in Germantown. 
Police released surveillance video and ask for the public's help identifying the suspect.
At about 7:15 p.m., officers responded to the McDonald's on the 2900 block of Middlebrook Road for a reported armed robbery, MCPD wrote in a release Thursday. According to police, the male suspect entered the McDonald's, approached the cashier, ordered food and gave the cashier money to pay. When the cashier opened the cash register, the suspect leapt onto the counter while holding a black handgun and took an undisclosed amount of money from the register before fleeing.
Police described the suspect as an "unknown race male, in his 20's, approximately 6-feet tall, around 180 lbs, wearing a black ski mask, a black beanie, a gray hooded sweatshirt and black pants."
MCPD asks anyone with information to call the Major Crimes Division at 240-773-5070 or 240-773-TIPS. Callers can also contact Crime Solvers of Montgomery County at 1-866-411-TIPS (8477). Up to $10,000 is offered for information that leads to the suspect's arrest. Callers can be anonymous, police said.
Detectives Investigate Armed Robbery of McDonald's in Germantown; Surveillance Video of Suspect Releasedhttps://t.co/kxVvK8wkVO#McpNews #Mcpd #ArmedRobbery pic.twitter.com/5EjUpF13Gv

— Montgomery County Department of Police (@mcpnews) March 17, 2022